Introduction: Hello friends today I brought a collection of best Happy Onam Images, Onam Pictures, Wishes, Quotes and Greetings. Onam is a very special festival for us Keralite. In Kerala, India this day is observed with great joy and gaiety. To make this beautiful day even more memorable, we have included best Happy Onam Wishes Quotes, Onam photos, Pictures, Poster and Greetings.
Additionally, you can share these Happy Onam wishes on your social media accounts (Facebook, WhatsApp or Instagram) to your friends, family, and loved ones. We sincerely hope you enjoy this content. Happy Onam, to you and your family!
What is Onam?
Onam is the most important ten-day Festival that is enthusiastically observed throughout the Indian state of Kerala. The Onam Festival, which commemorates the mythical King Mahabali's return home, takes place in the Malayali month of Chingam (a Malayalam calendar month) that typically falls from mid-August to mid-September. The ten-day Onam Carnival showcases the best of Keralan history and culture.
Onam, the harvest festival of kerala is also known as the festival of rain flowers. Onam it is a ten-day celebration that is enthusiastically observed throughout Kerala. This harvest festival in Kerala, is known for its intricately designed Pookalam, delicious Onasadya, stunning Snake Boat Race, and unique Kaikottikali Dance. These are just a few of its most notable attractions.
King Mahabali visited "Kerala" at the Onam festival, hence the festival is celebrated in his honour. When Onam is observed, Kerala presents visitors with a completely new world of unique flavours, beautiful aromas, and entrancing displays of beauty. The celebrations during the Onam festival in Kerala cause your body and spirit to move to the enthralling beats of music.
Note: Onam is celebrated in which state? – Onam Festival is celebrated in the Indian state of Kerala.
When is Onam- Onam Date:
Onam is celebrated on the day of Thiruvonam Nakshatram (Shravana Asterism) which occurs in the Malayalam month of Chingam, falls between August – September on the Gregorian calendar. The dates for Onam 2022 are from 30th August (Tuesday) to 8th September (Thursday).

Some Interesting Facts About Onam Festival In Kerala:
Onam Celebration Names
Onam Sadhya
Vallamkali Boat Race
Onam Dance
Onam Pookalam
Onakalikal
Elephant Procession
Onam Dance-Folk Dance of Kerala
Kummattikali
Koodiyattam
Pulikali / Kaduvakali
Thirvathirakali
Ottamthullal
Kathakali
Thumbi Thullal
Kolkali
Kaikotti kali
Mohiniyattam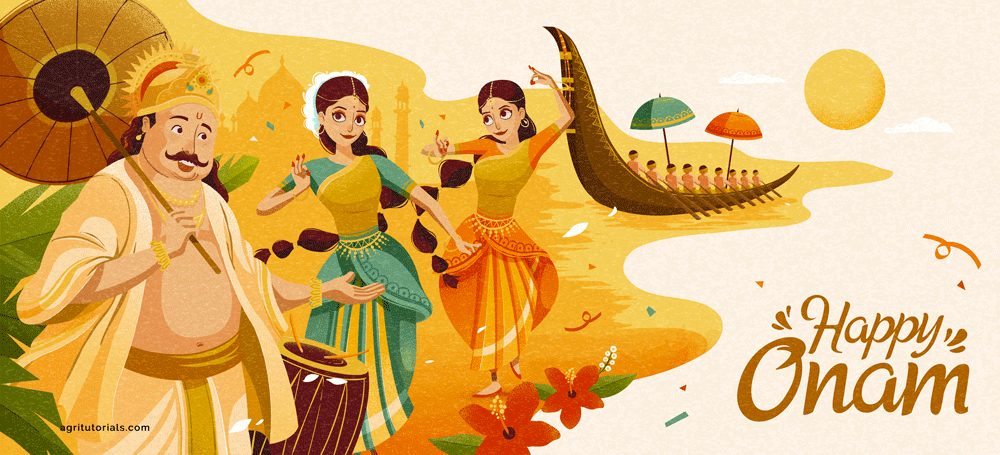 Onam Special Food/Onam Festival Food
Rice Puttu, Thoran and Theeyal
Erissery, Avial, Palada Pradhaman, and Dudhi Pradhaman
Kootukari, Puliinji, Injithair & Parippucurry
Sarkarapuratty & Pineapple Pachhady
Kaya Varuthathu, Olan with Kalan
Tomato Thokku & Tomato Rasam
Lady's Finger Kichadi & Pesarattu
Masala Pesarattu
Masala Vada & Medu Vada with Coconut Chutney
Idli & Dosas with Sambar & Pappadam
Banana Halwa, Dry Fruit Kesari and Kheer
Pulissery and Mor Kuzhambu
Mothagam, Prathaman and Payasam
Names of Onam Games in Malayalam- Onakalikal
The term "Onakalikal" refers to all of the many games that are played during Onam.
Talappanthukali
Kayyankali
Cakes for Birthday
Attakalam
KutuKutu
Ambeyyal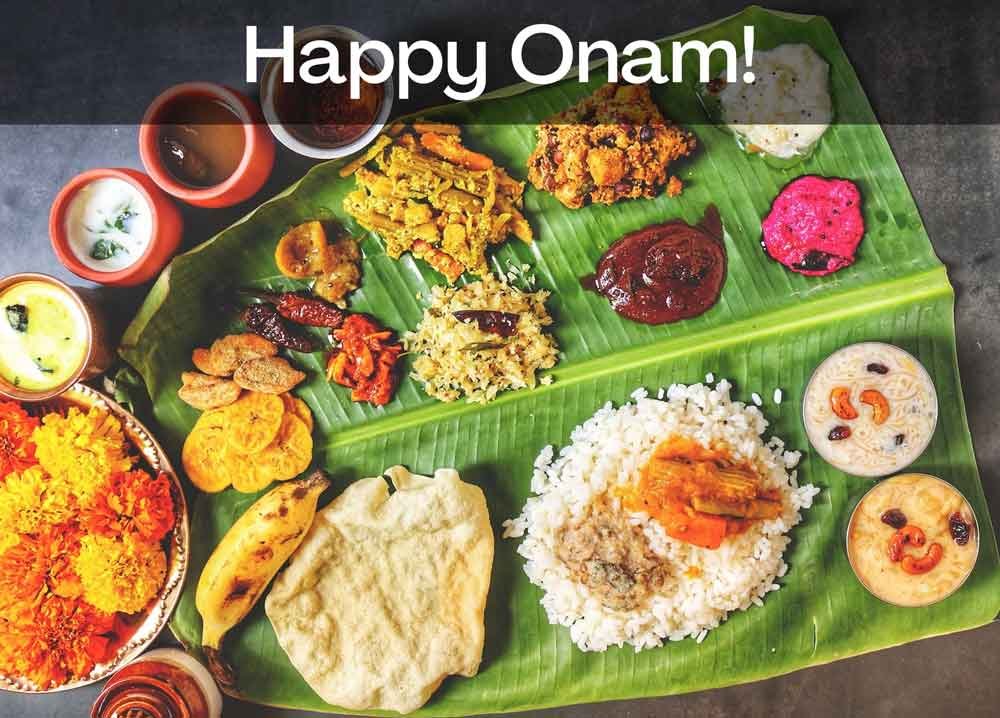 Dazzling Pookalam, delectable foods, I'm giving you my best wishes on this Onam.
---
---
Download Happy Onam Images, Onam Wishes Images & Onam Pictures:
Here is the collection of some best Onam related pictures that you can download and share on social media with your friends, coworkers, and family members on the occasion of the Onam Festival:
I appreciate you being around me during my toughest times. I send you my best wishes for health, happiness, and wealth this Onam. Here's wishing you a very happy Onam to you and your family!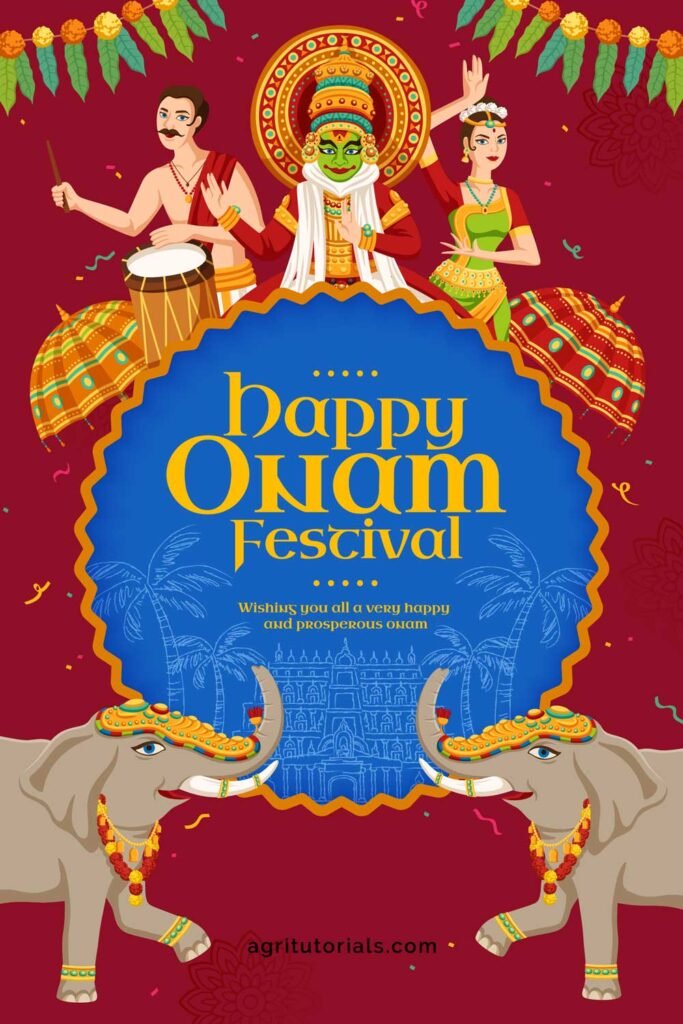 On this Onam, I wish you pleasure and joy, to your family from ours.
I hope that the joy of this auspicious celebration permeates all you during Onam. Happy Onam to you and your family.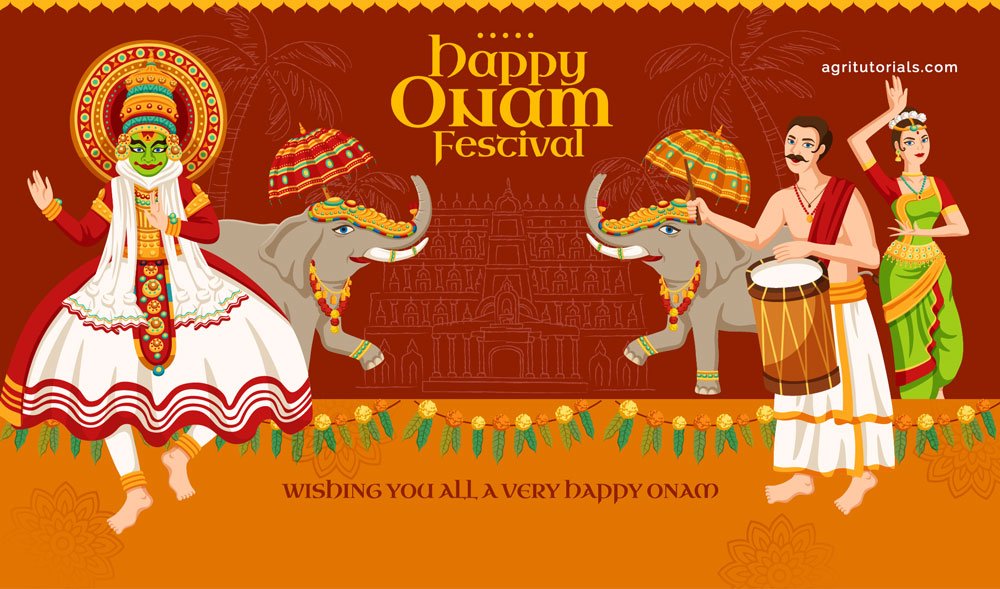 I'm sending my best wishes and blessings to you and your family. Please accept my family's sincere Onam greeting on behalf of yours!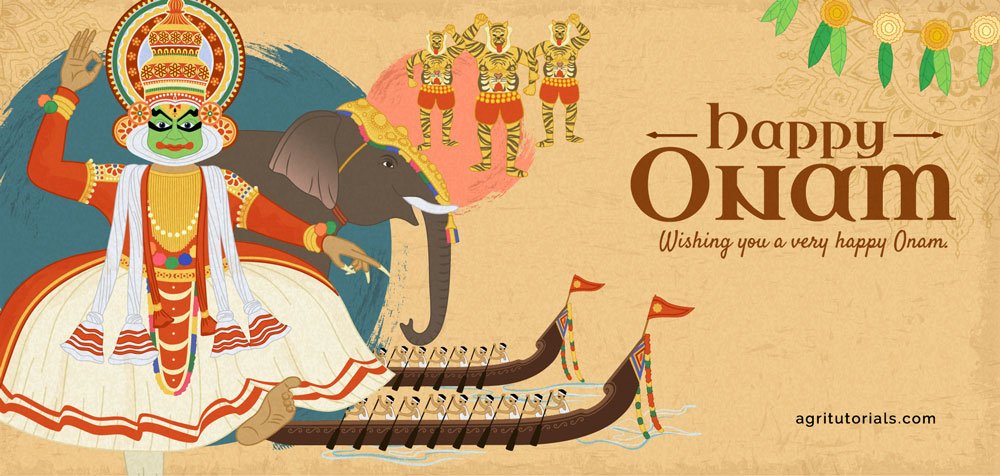 May your life be as happy and prosperous as the delectable flavours and richness of the Onam Sadhya. Happy Onam to you and your loved ones!
I want King Mahabali to provide you and your kinship health and happiness during this Onam. Happy Onam!
I hope this Onam brings you joy and happiness in your house and heart! Happy Onam!

This year I wish that the spirit of Onam stays with us for long time. Wish you a very Happy Onam!
I pray that King Mahabali would bless you and your relatives. Enjoy Onam!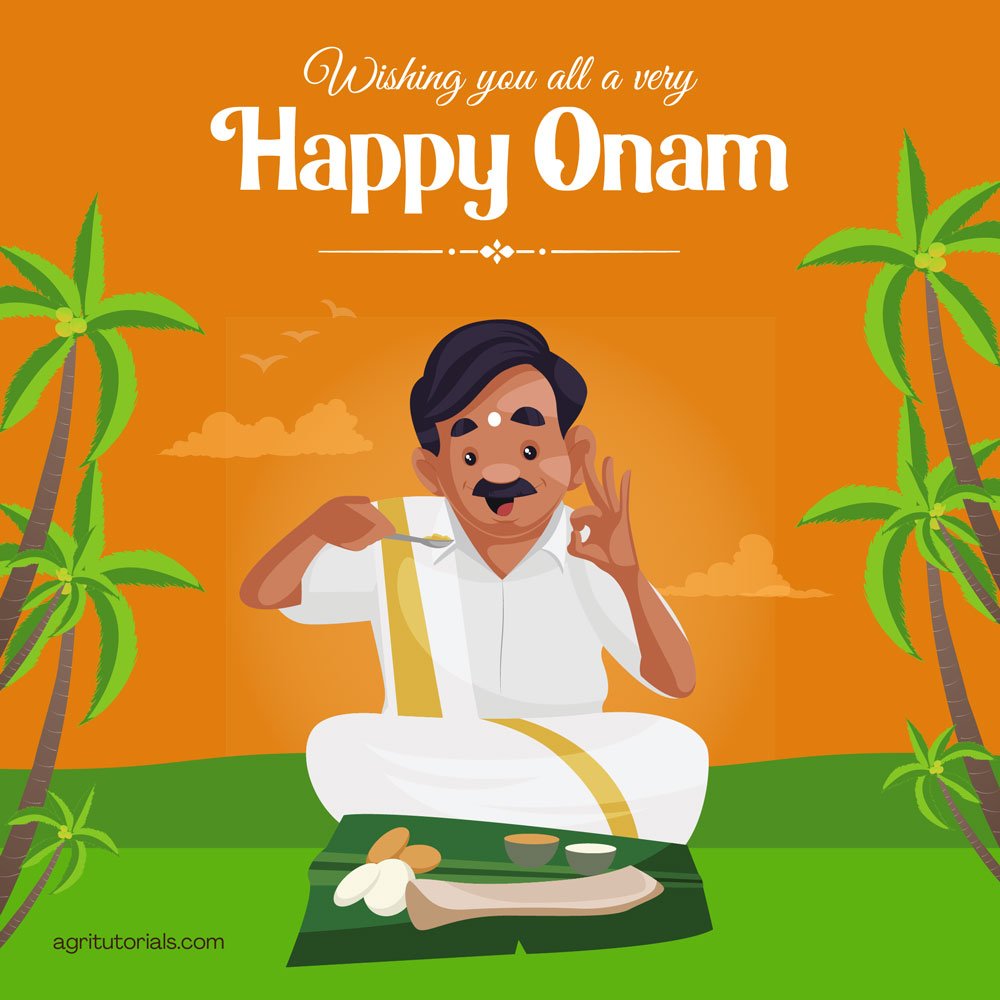 This Onam, may God provide you good health, joy, and prosperity! A heartfelt "Happy Onam" to you!
It's time to welcome King Mahabali and enjoy the harvest festival! Let's make delicious desserts and beautify our houses with pookalams to keep the festival's atmosphere alive. Happy Onam!
I ask God to grant all of your aspirations, dreams, and wishes this Onam. Happy Onam!
Happy Onam to you and your family, dear!
I hope all of your troubles and pains pass away this Onam. Greetings of happiness, health, and wealth to you. From our family to yours, Happy Onam!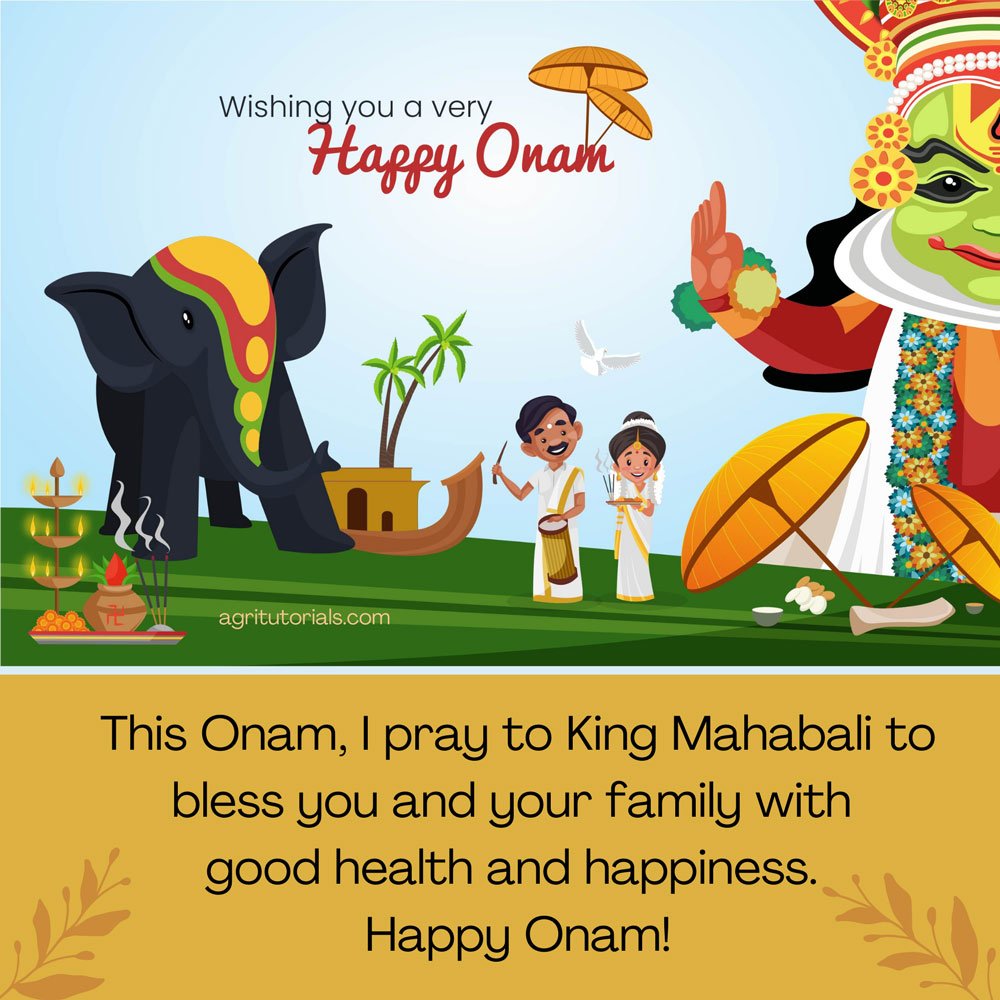 I'm sending you my warmest regards and best wishes on this Onam. May the spirit of King Mahabali always lead you. Happy Onam!
I hope the vibrant colours and lovely lights bring joy and happiness into your life and heart on this auspicious occasion of Onam. Happy Onam!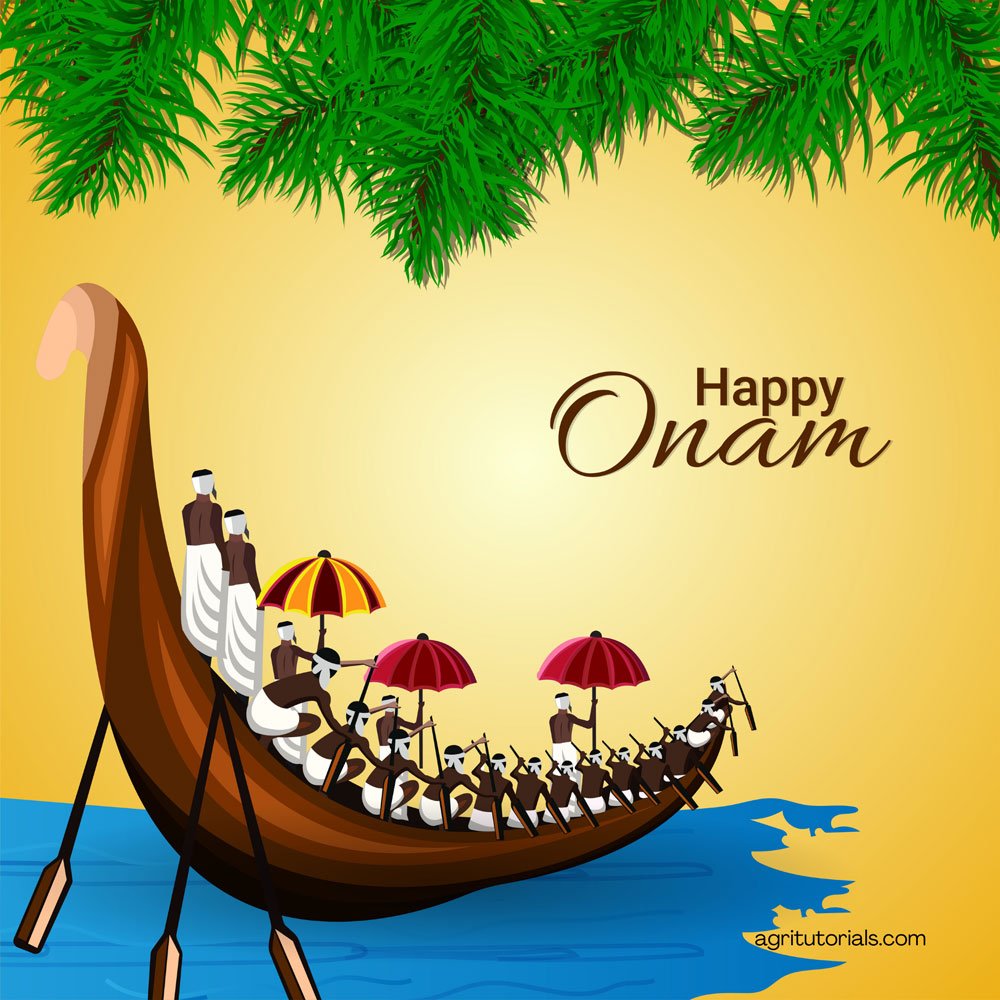 I hope the Onam spirit stays within us for a very long time this year. A very Happy Onam to you!
May the New Year and this auspicious festival bring you joy and wealth. I'd like to wish you a very Happy Onam!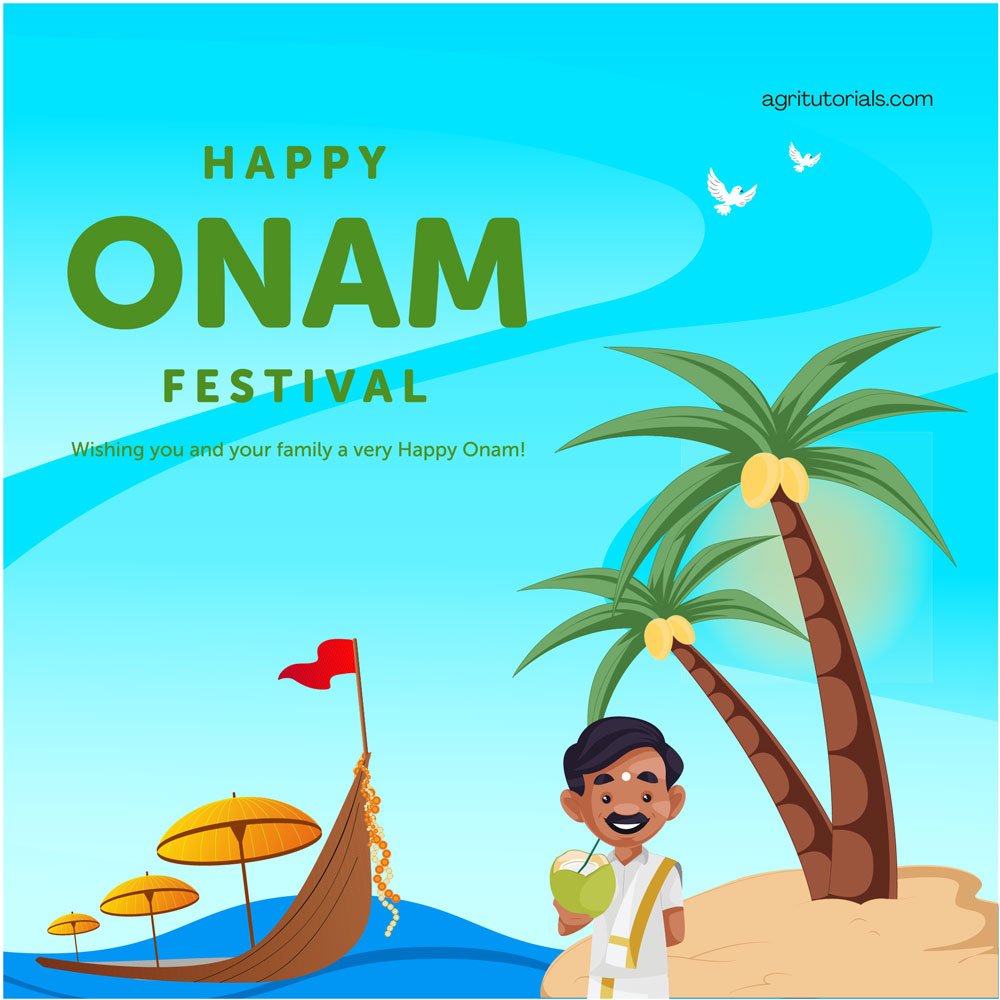 You and your family are blessed by the Onam spirit. I hope they help you live a successful life. Happy Onam!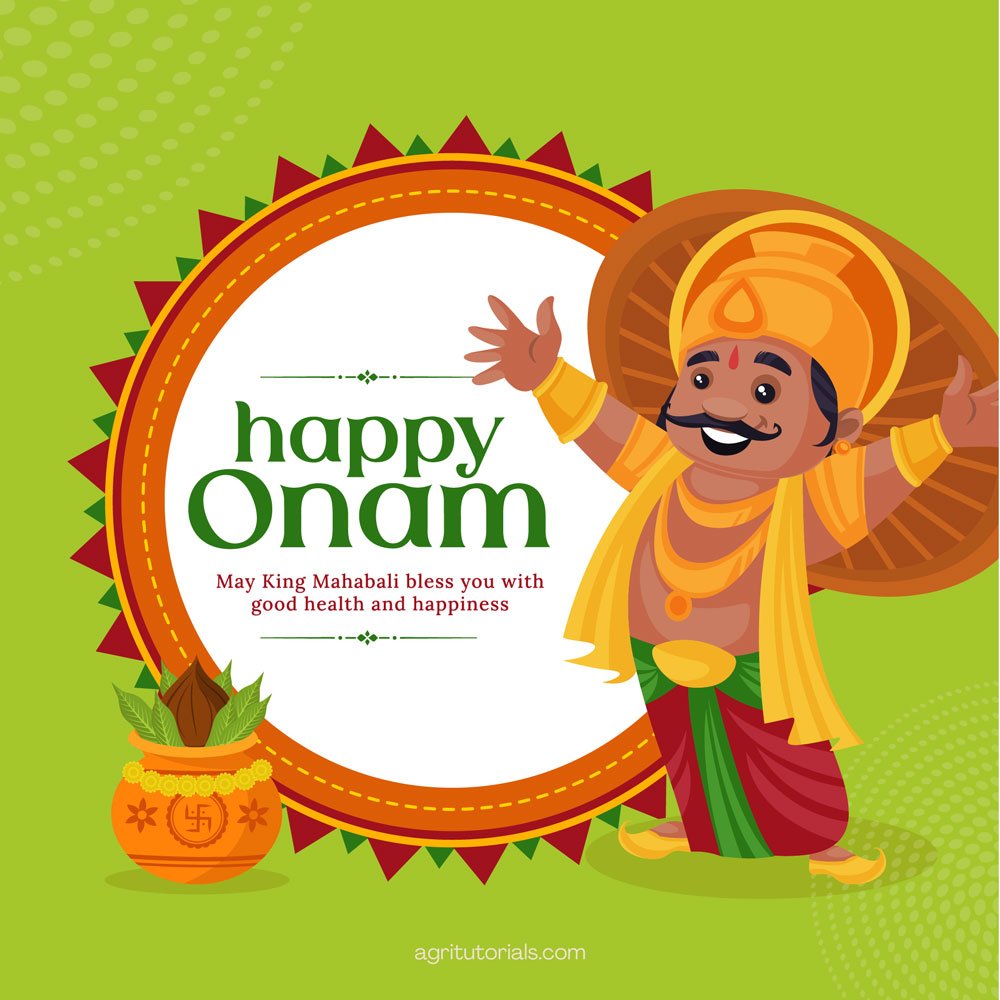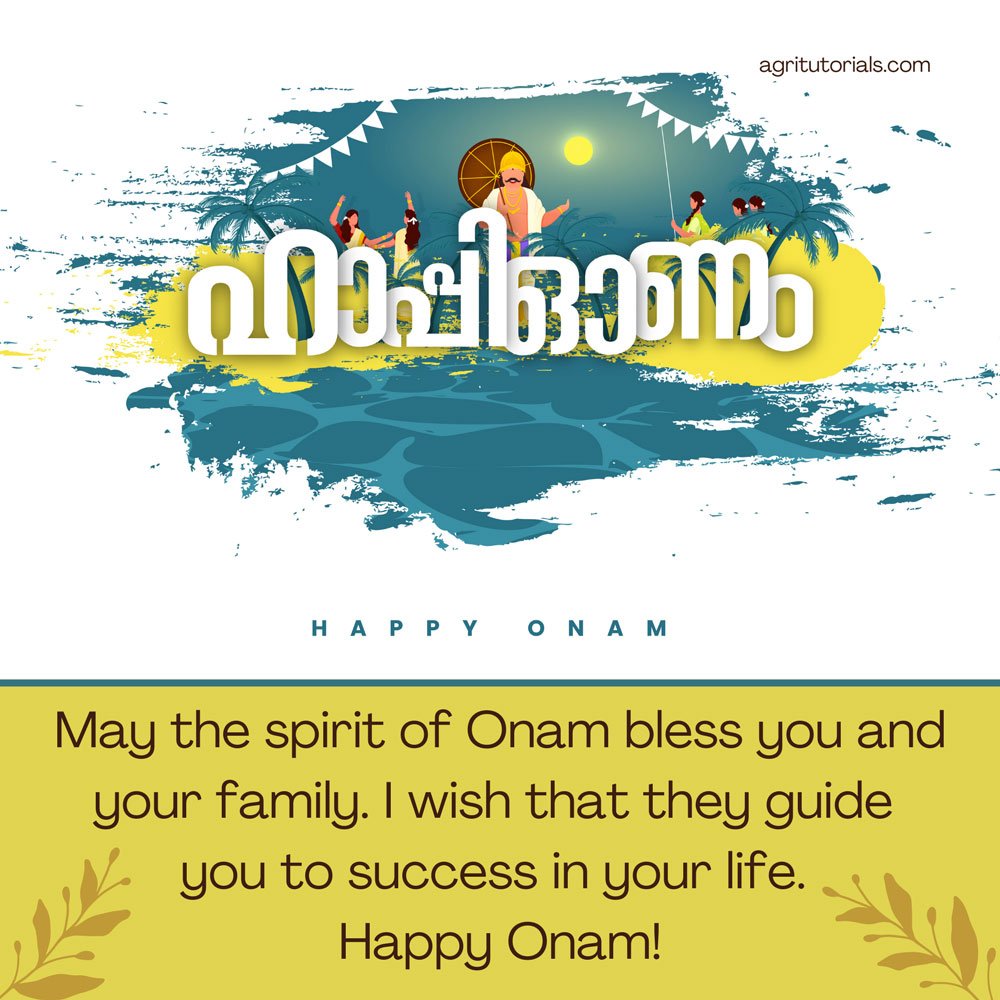 This Onam I wish for all your worries and sorrows to fade away. May you be blessed with happiness, good health and prosperity. Happy Onam, from our family to yours!
On the auspicious occassion of Onam, I wish the colours and beautiful lights fill your home and heart with happiness and joy. Happy Onam!
We wish you and your family a very Happy Onam!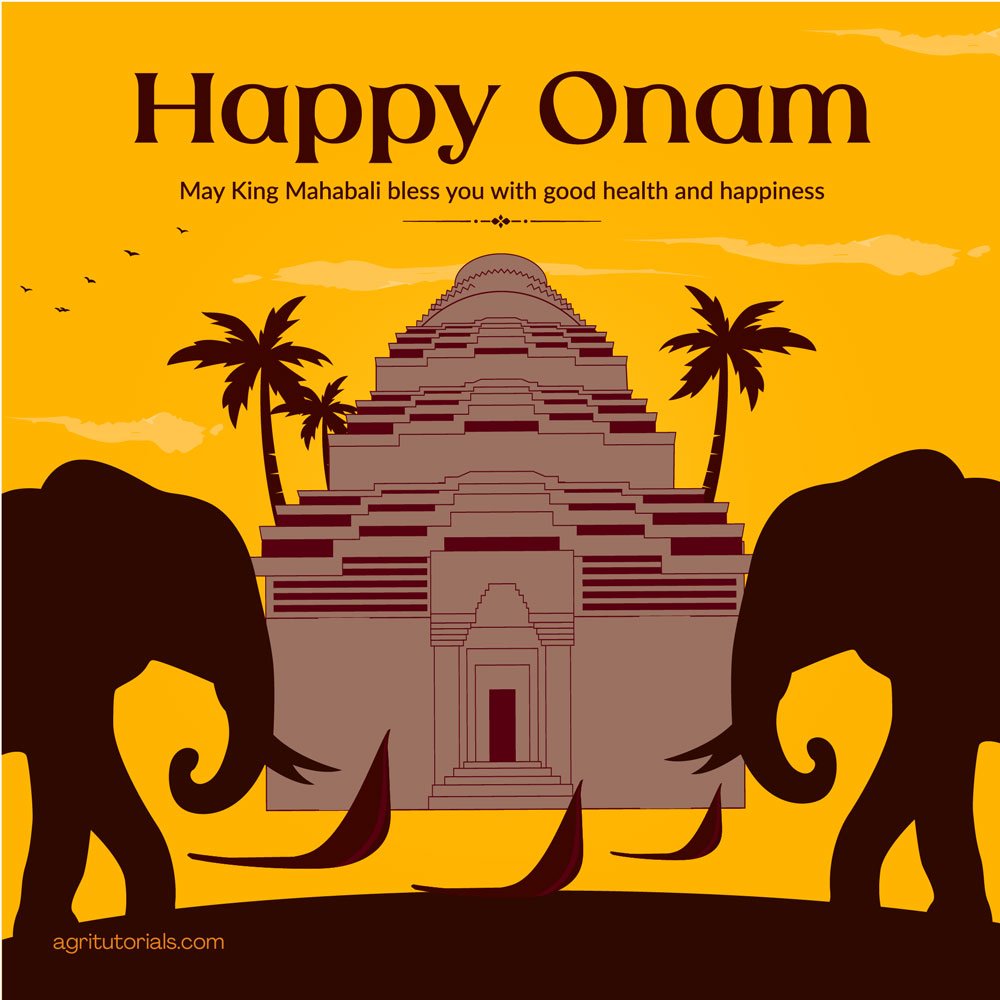 This Onam, I wish that the spirit of this auspicious festival stays with you in everything you do. Here's wishing you and you family a very happy Onam.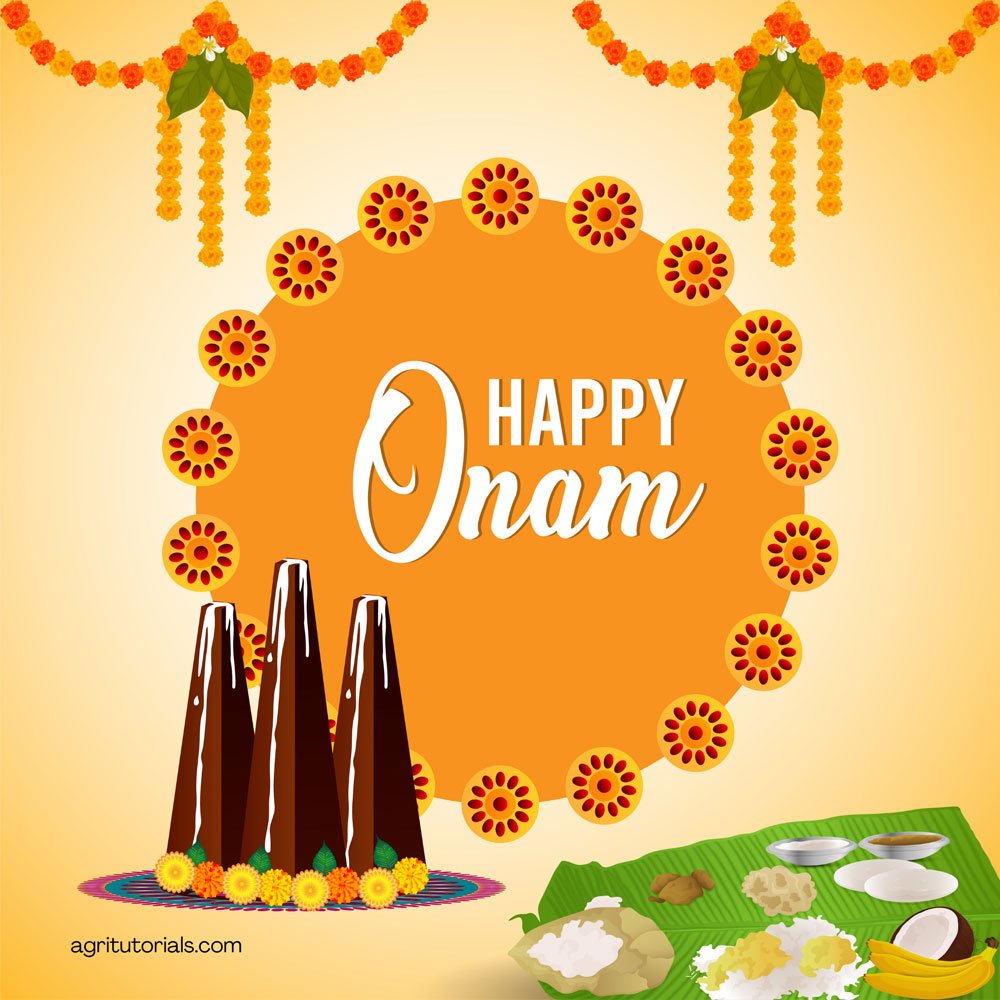 I wish that this Onam fills your home and heart with happiness and joy! Happy Onam!
May the spirit of Onam bless you and your family. I wish that they guide you to success in your life. Happy Onam!
Colorful pookalam, Mouthwatering dishes, On this Onam, Here's sending you my heartfelt wishes.
Wishing you happiness and joy this Onam. From our family, to yours.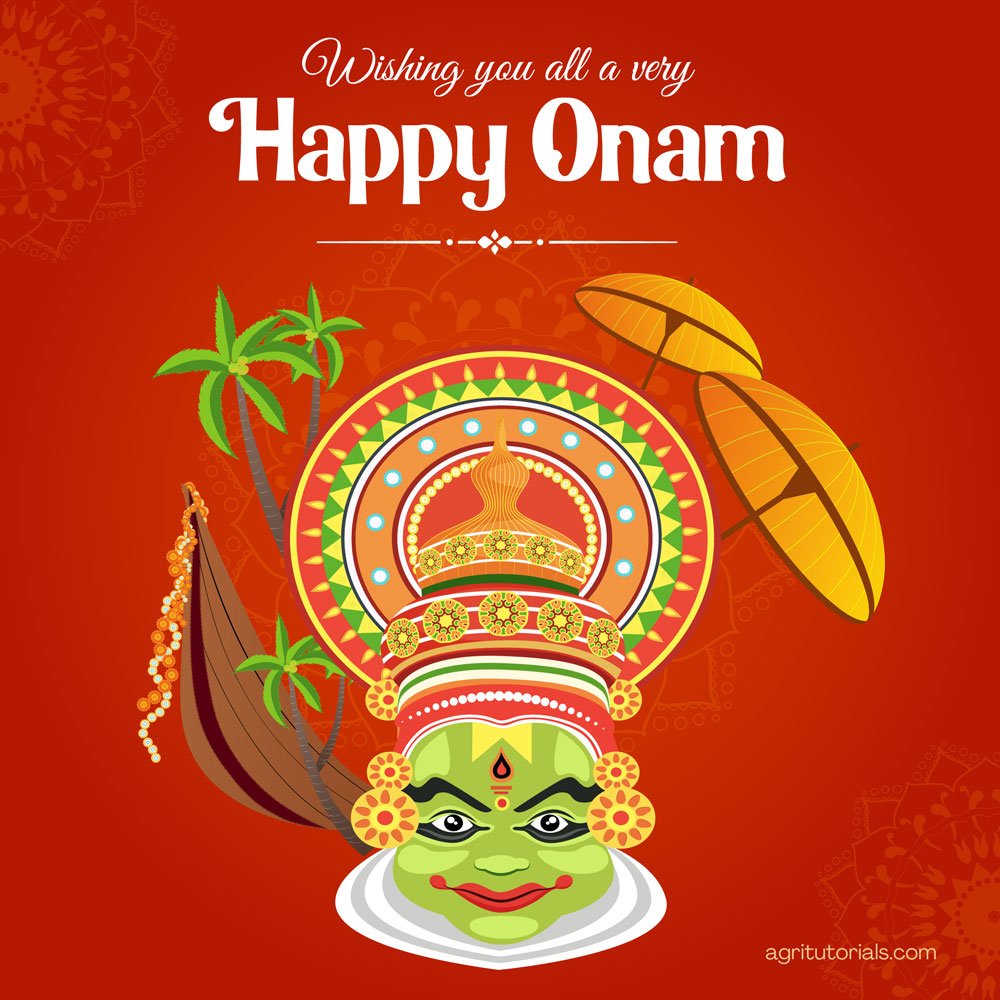 May this auspicious festival and New Year bring happiness and prosperity to you. Here's wishing you a very Happy Onam!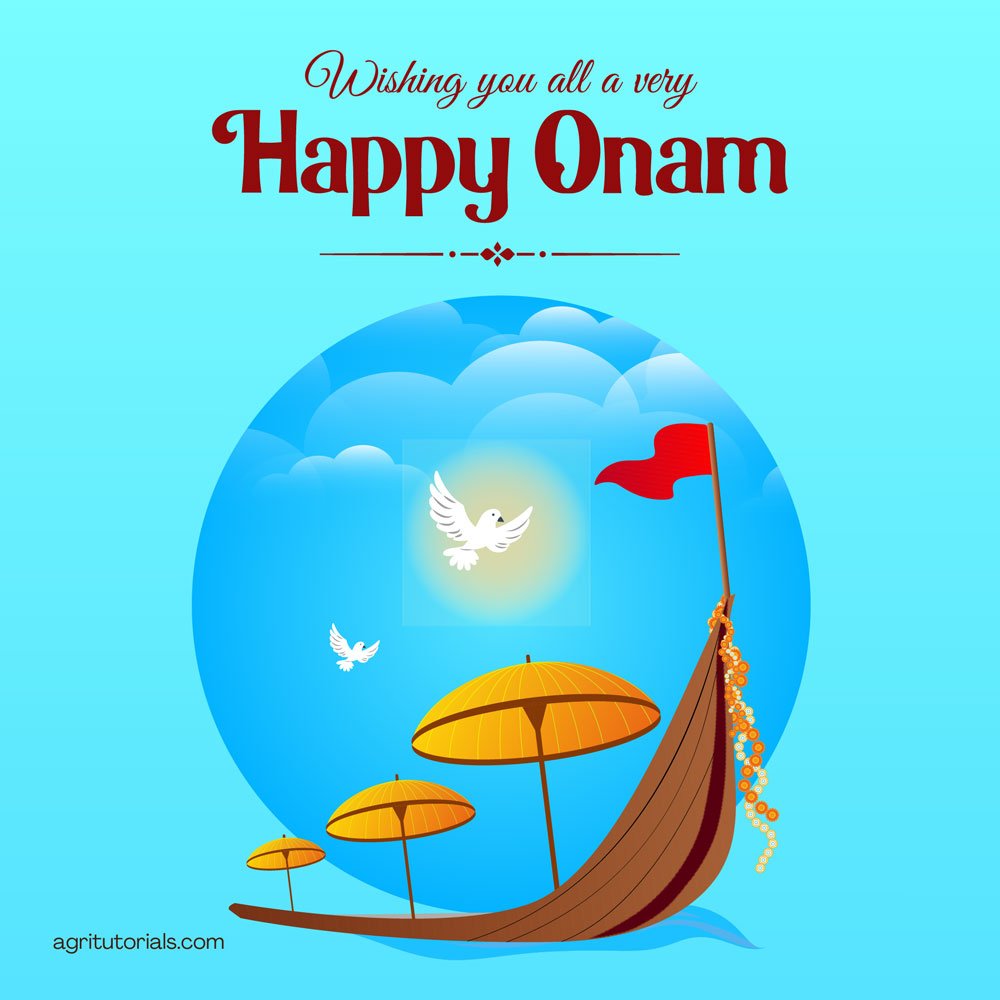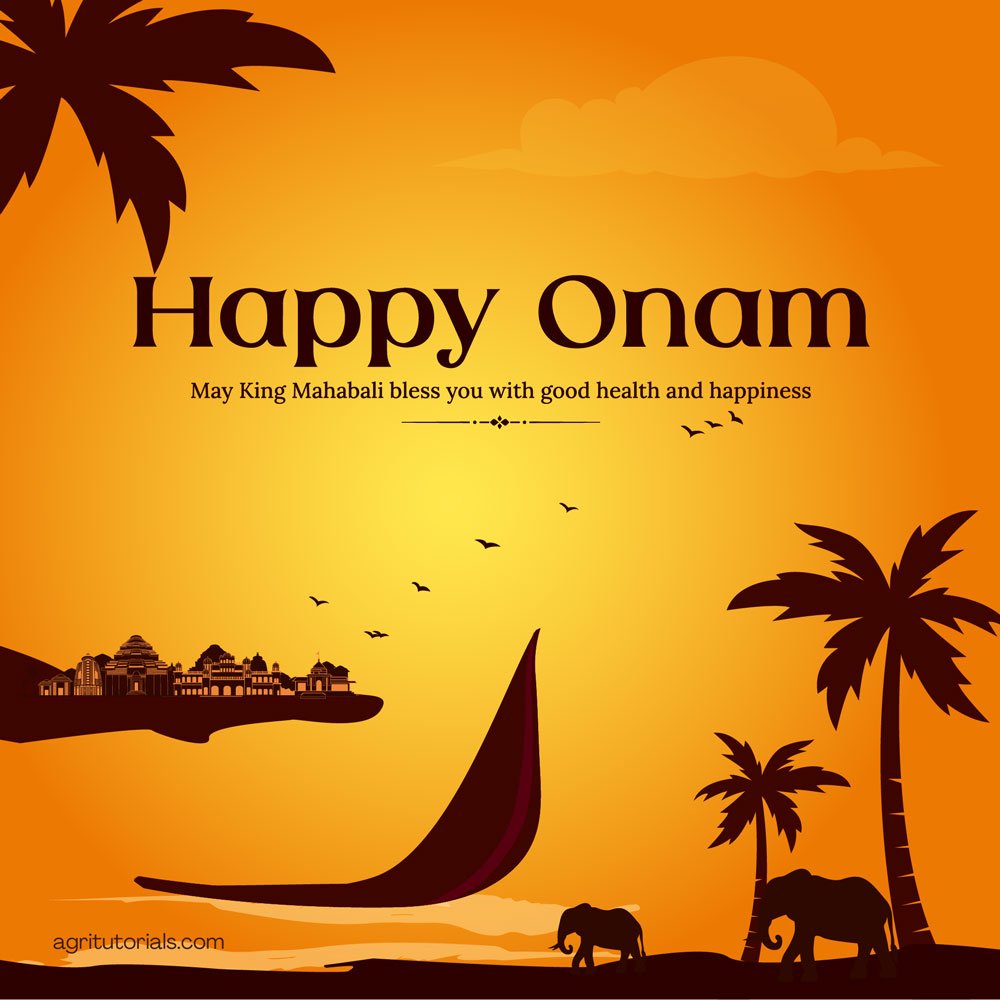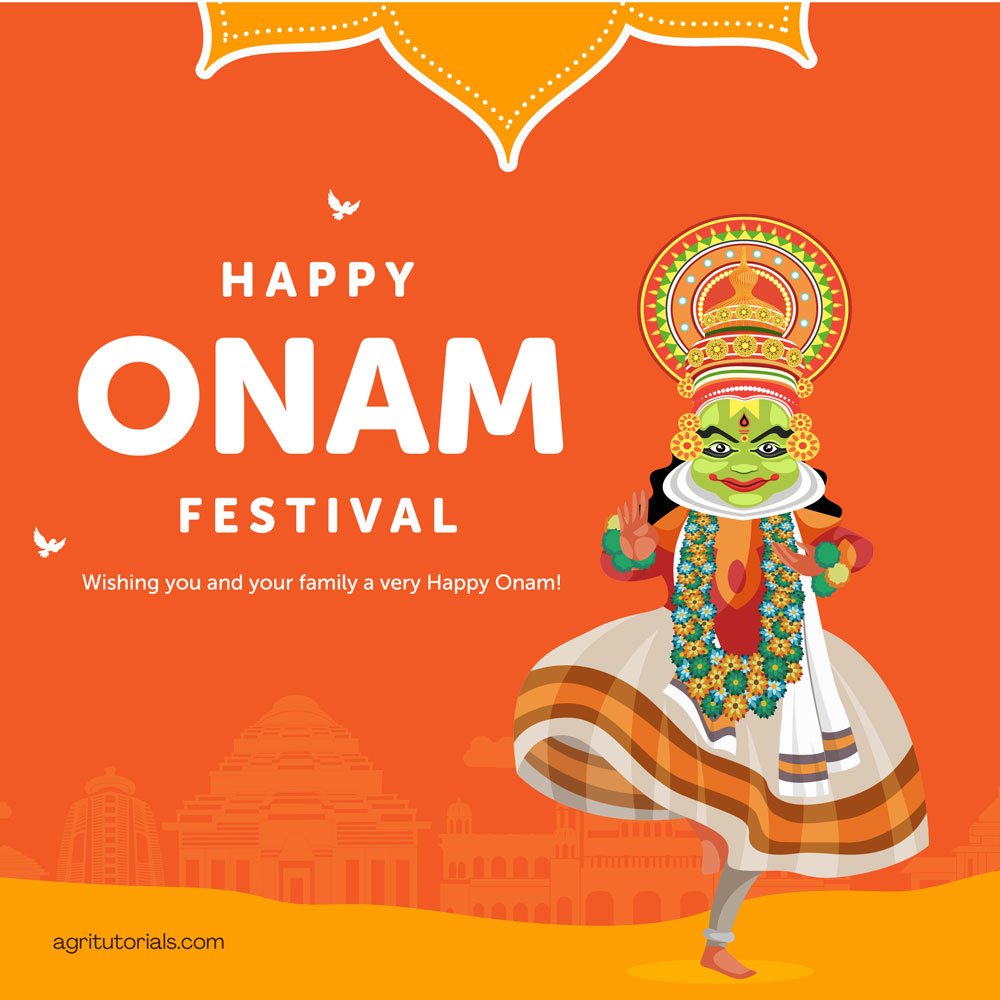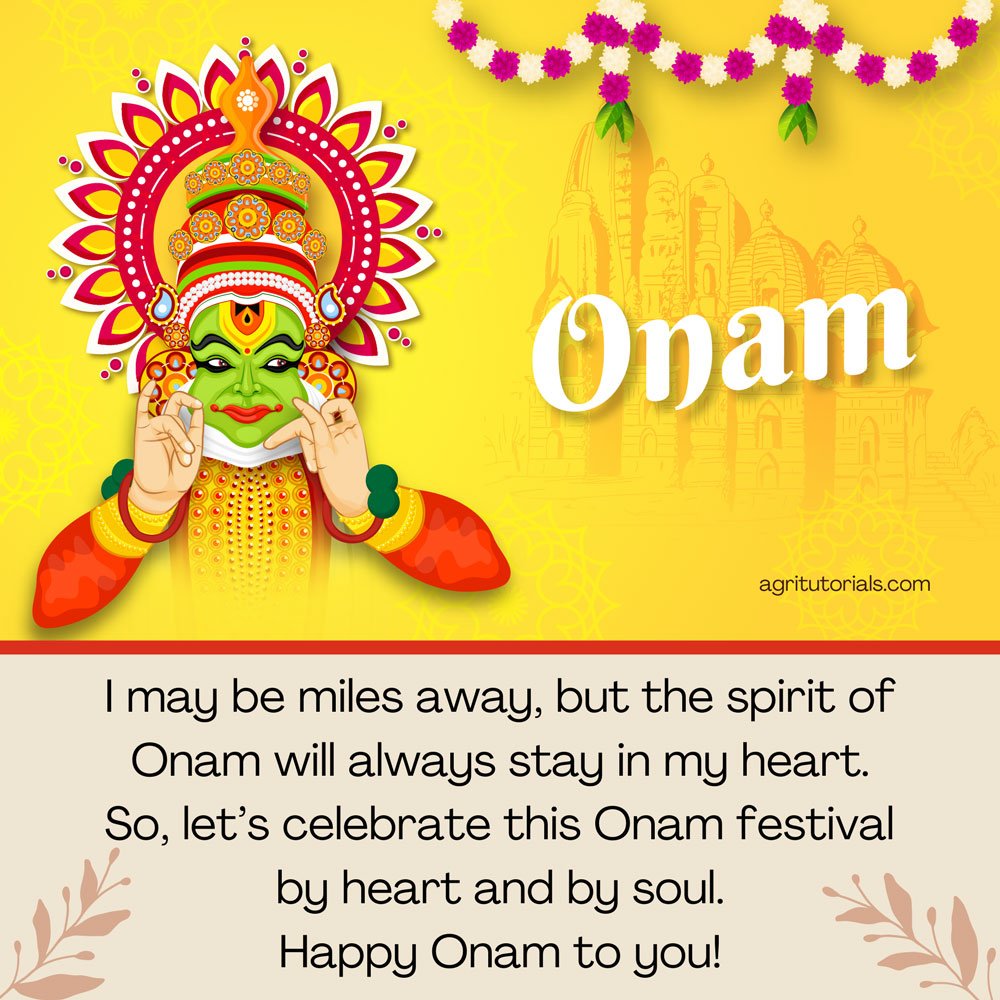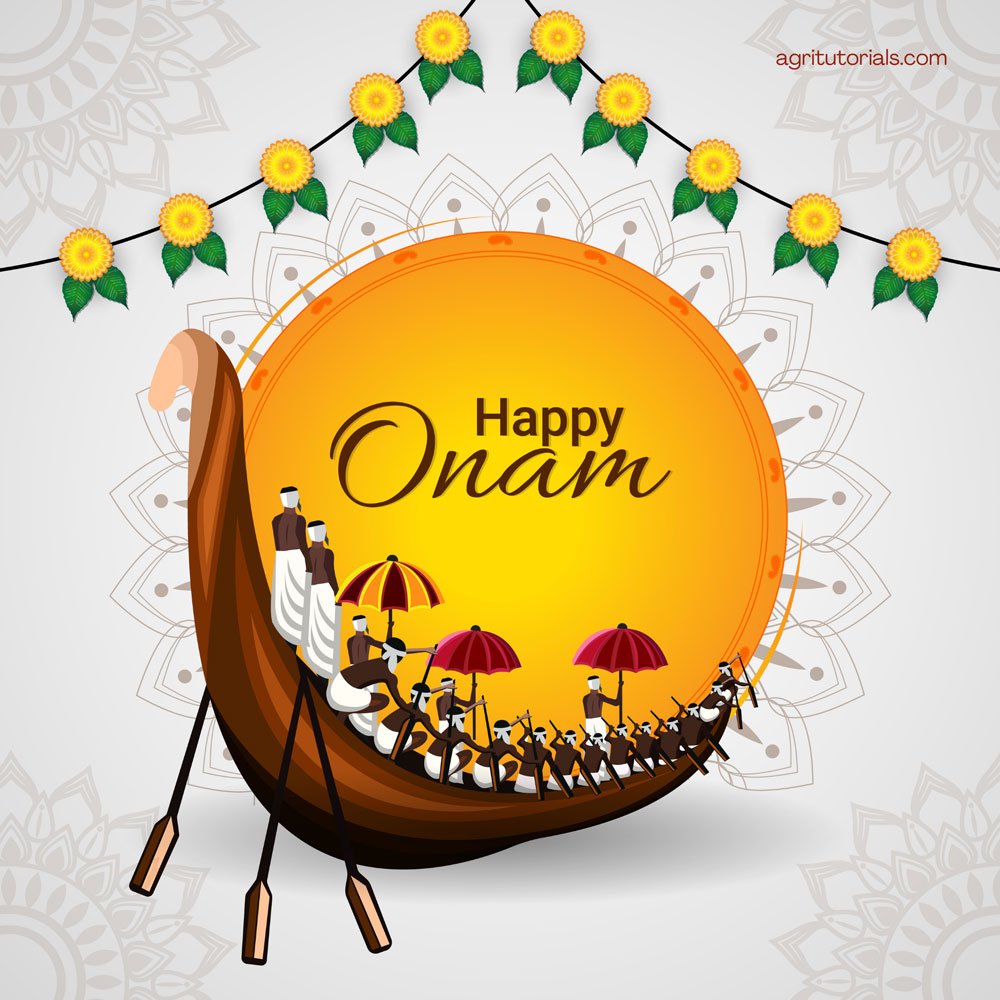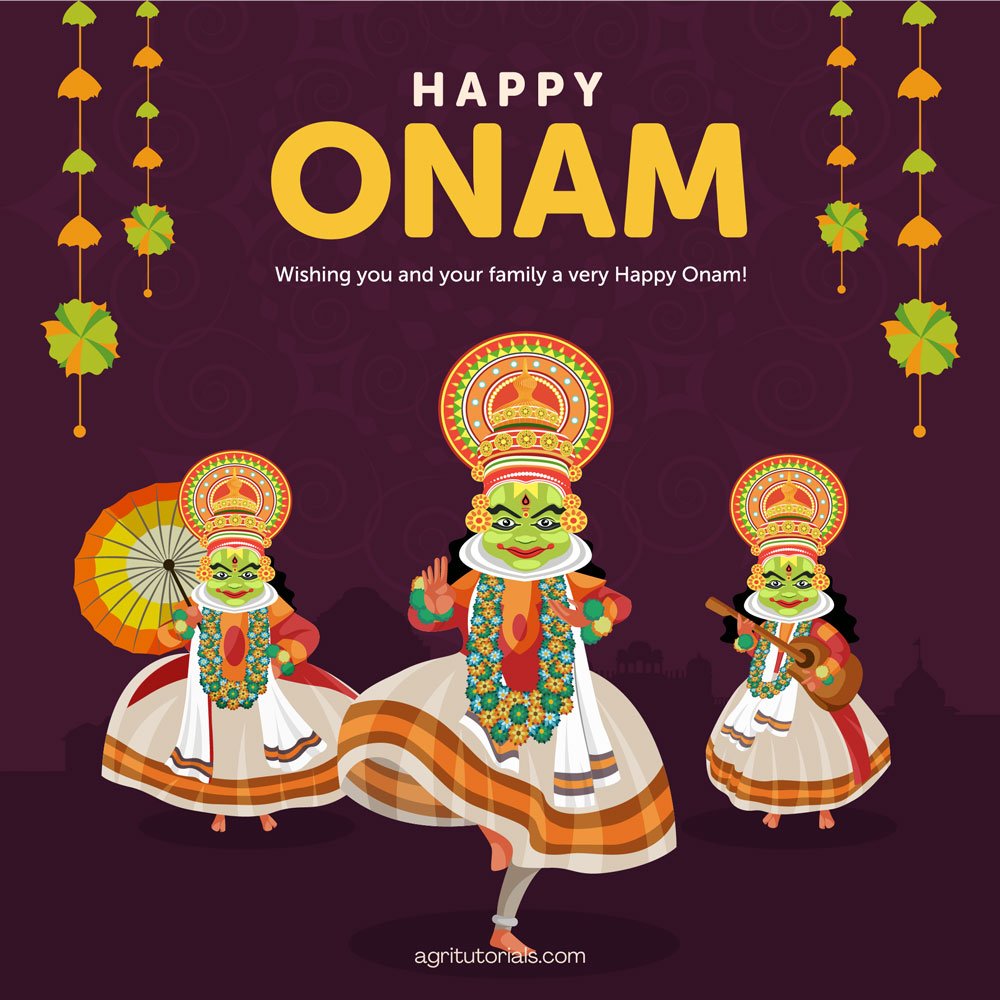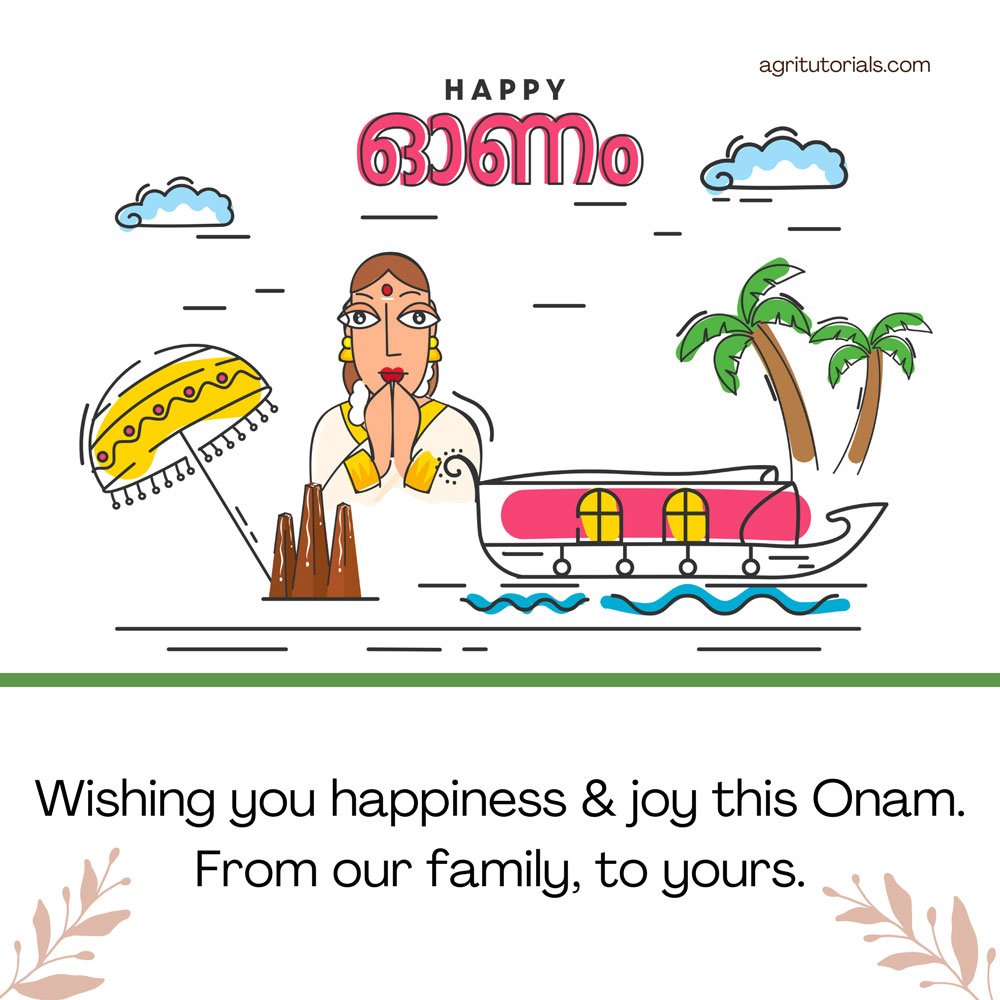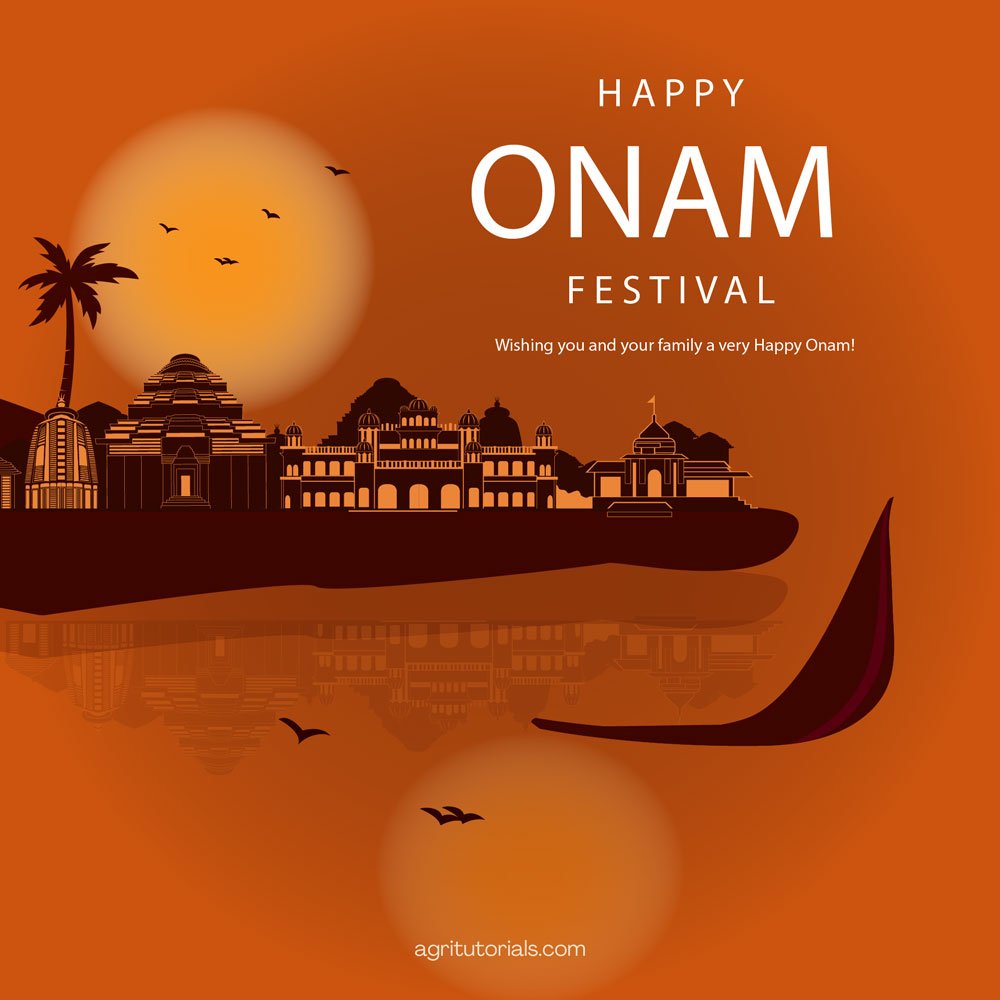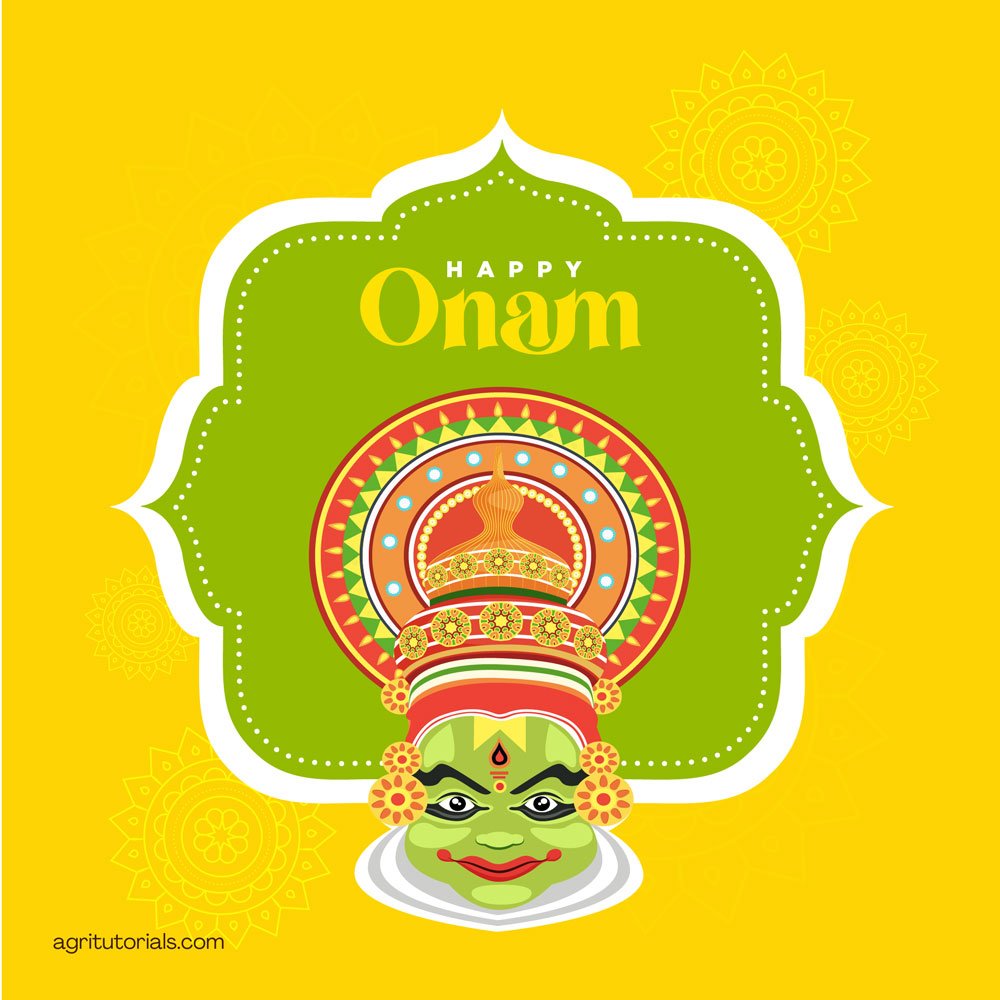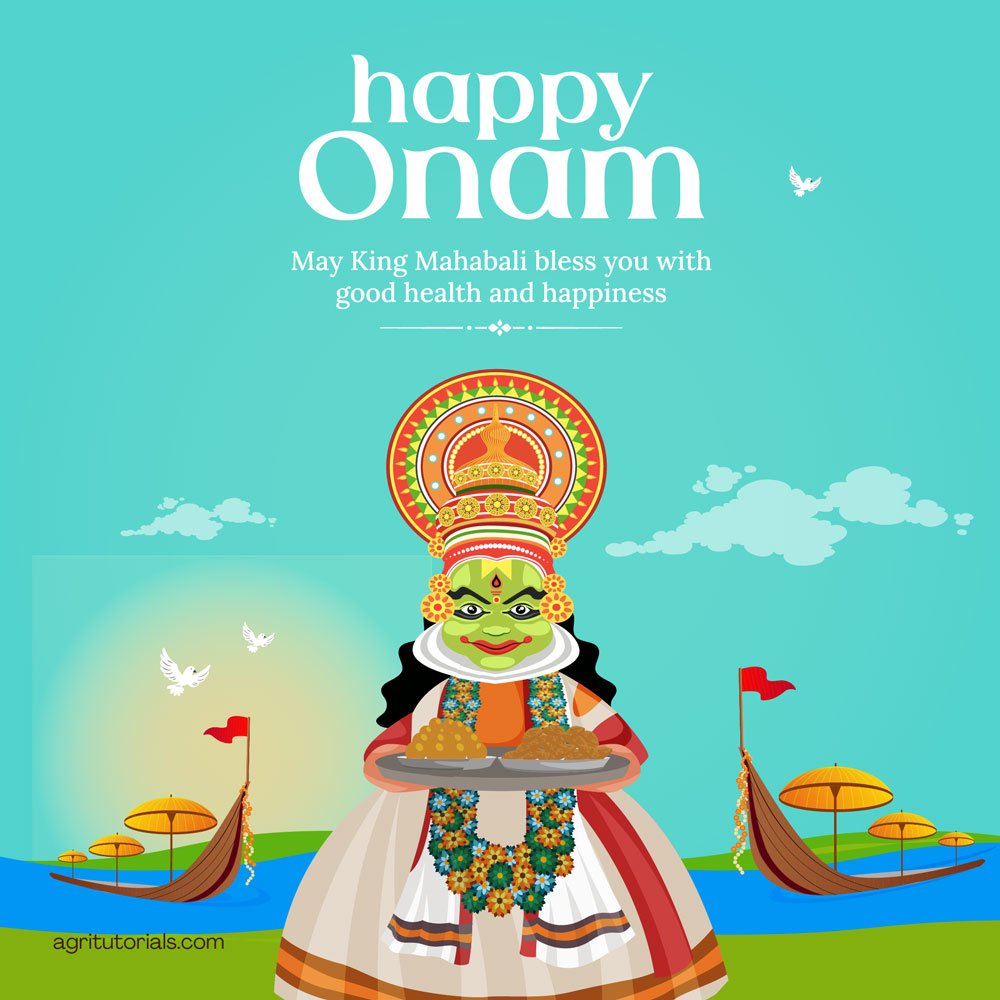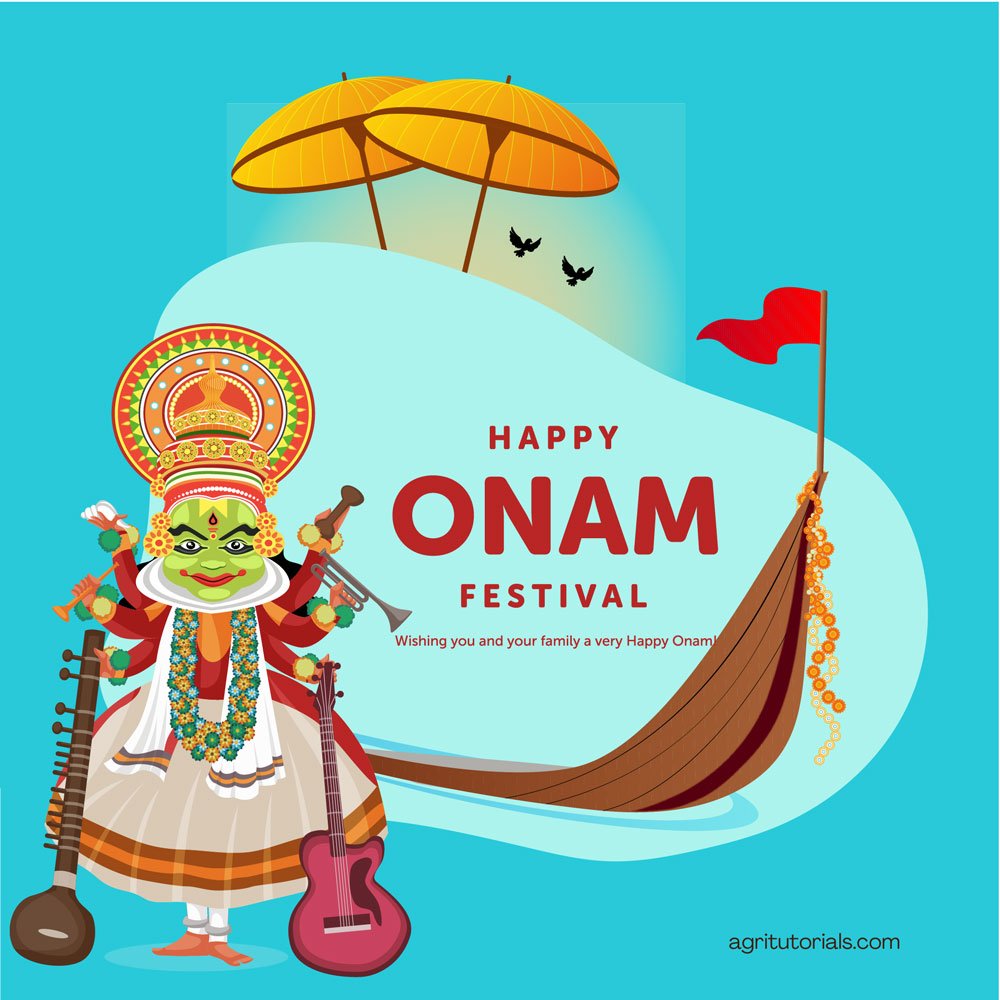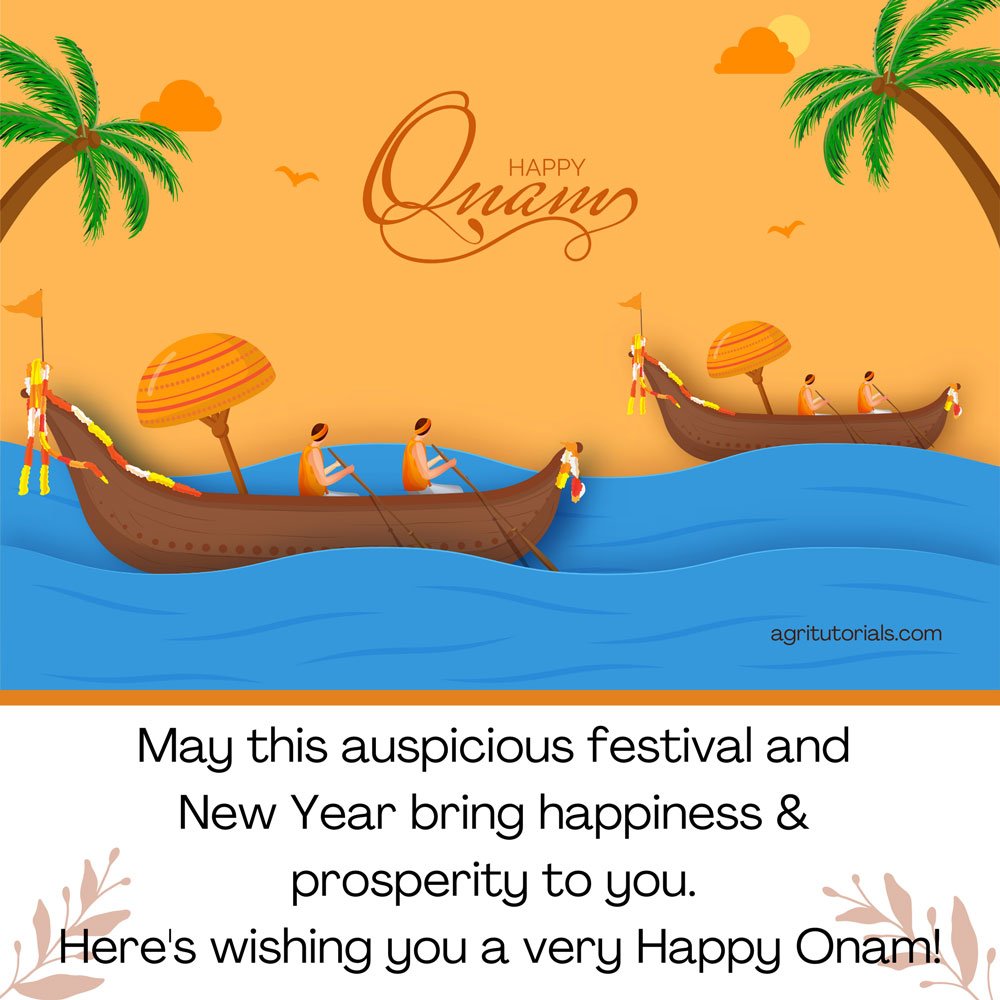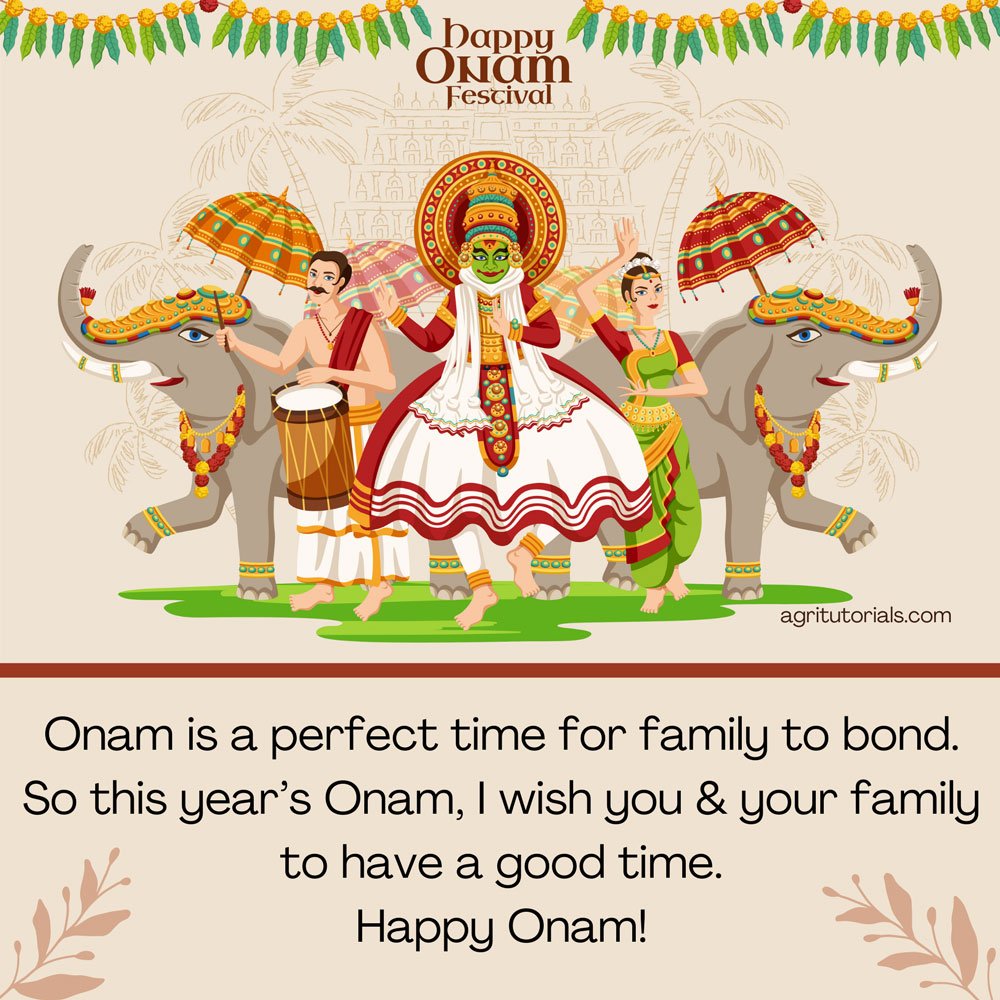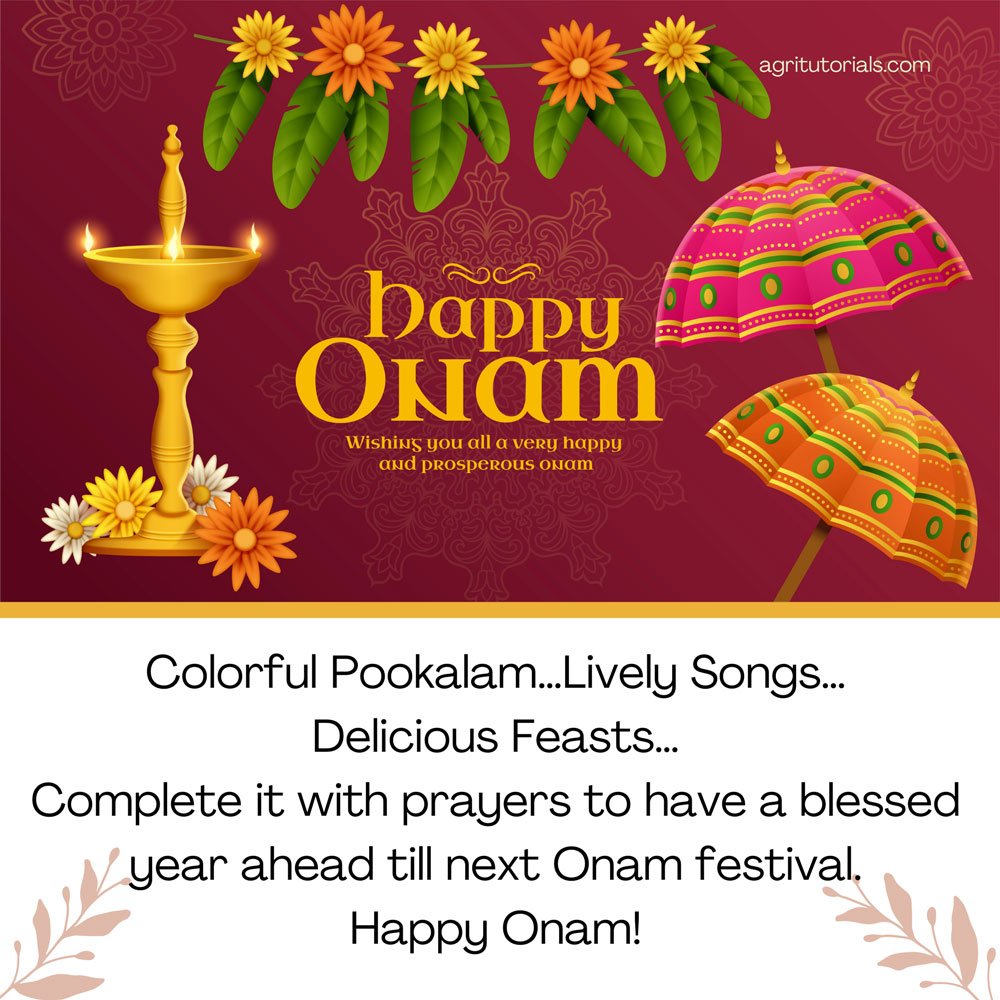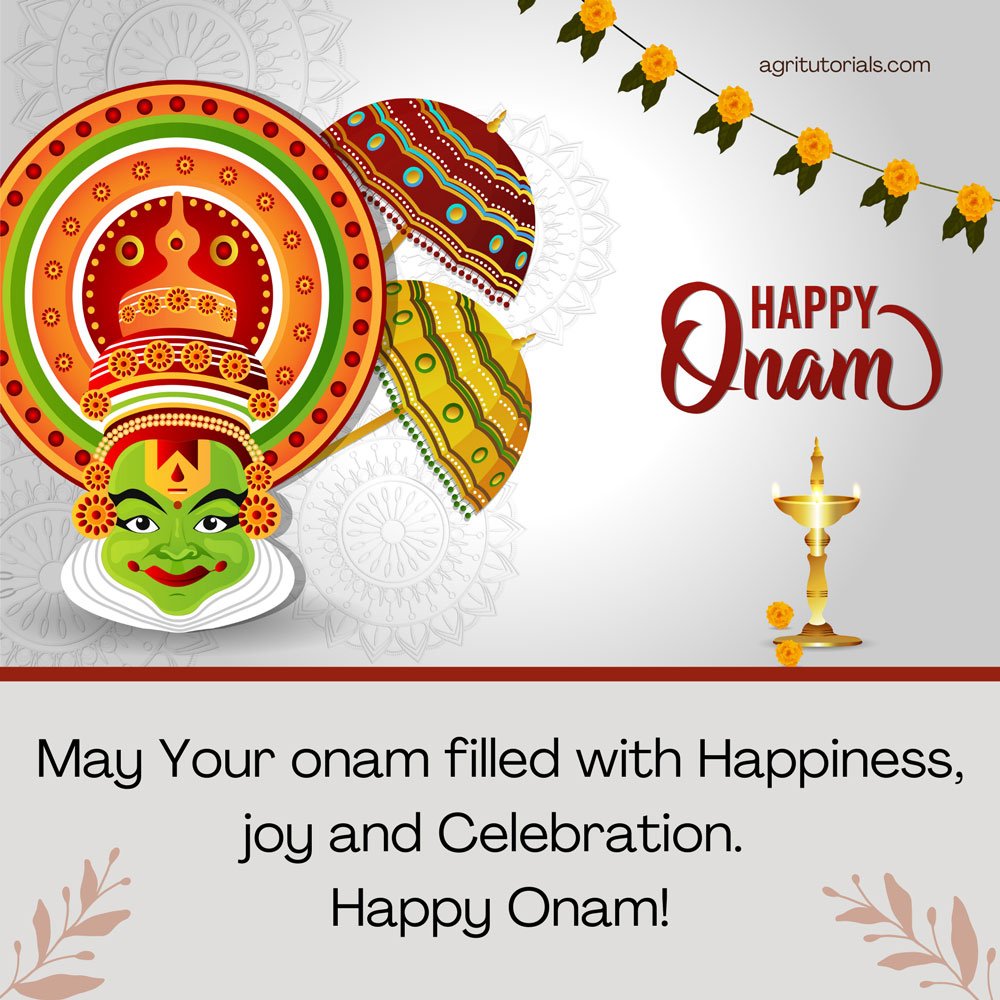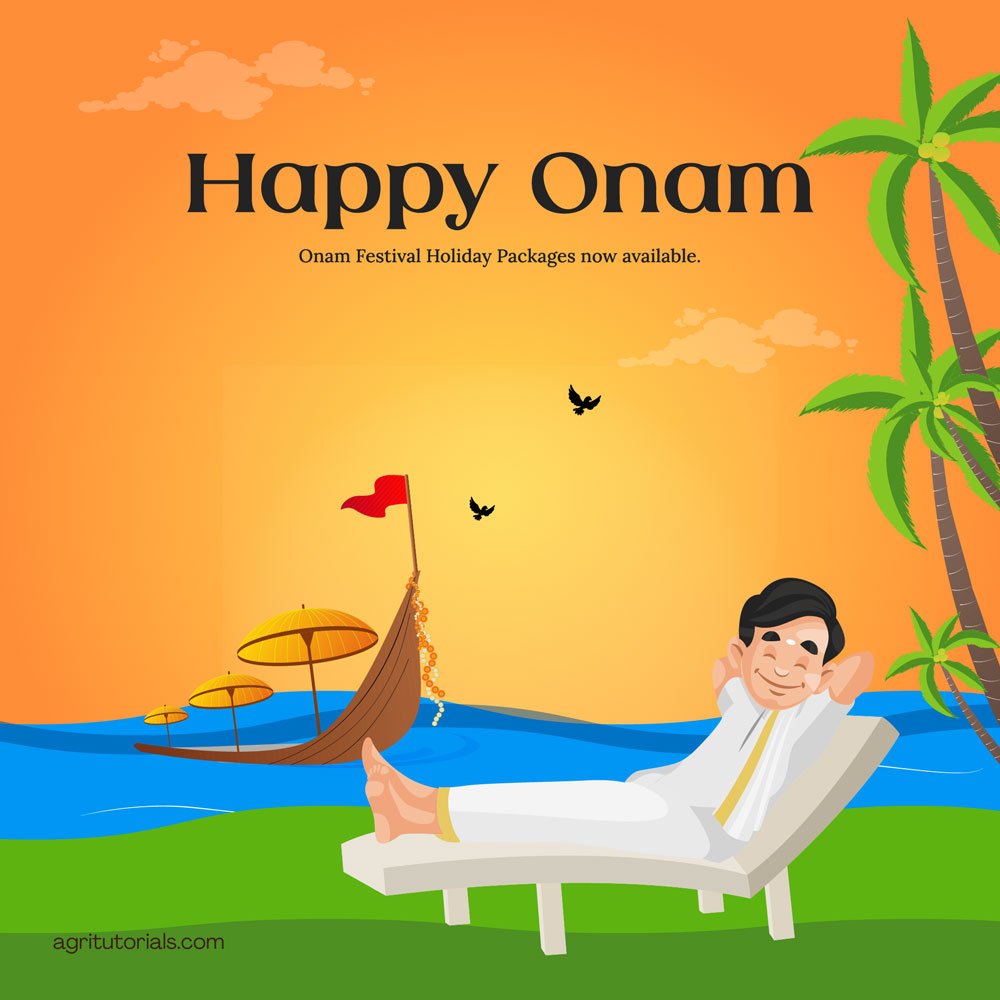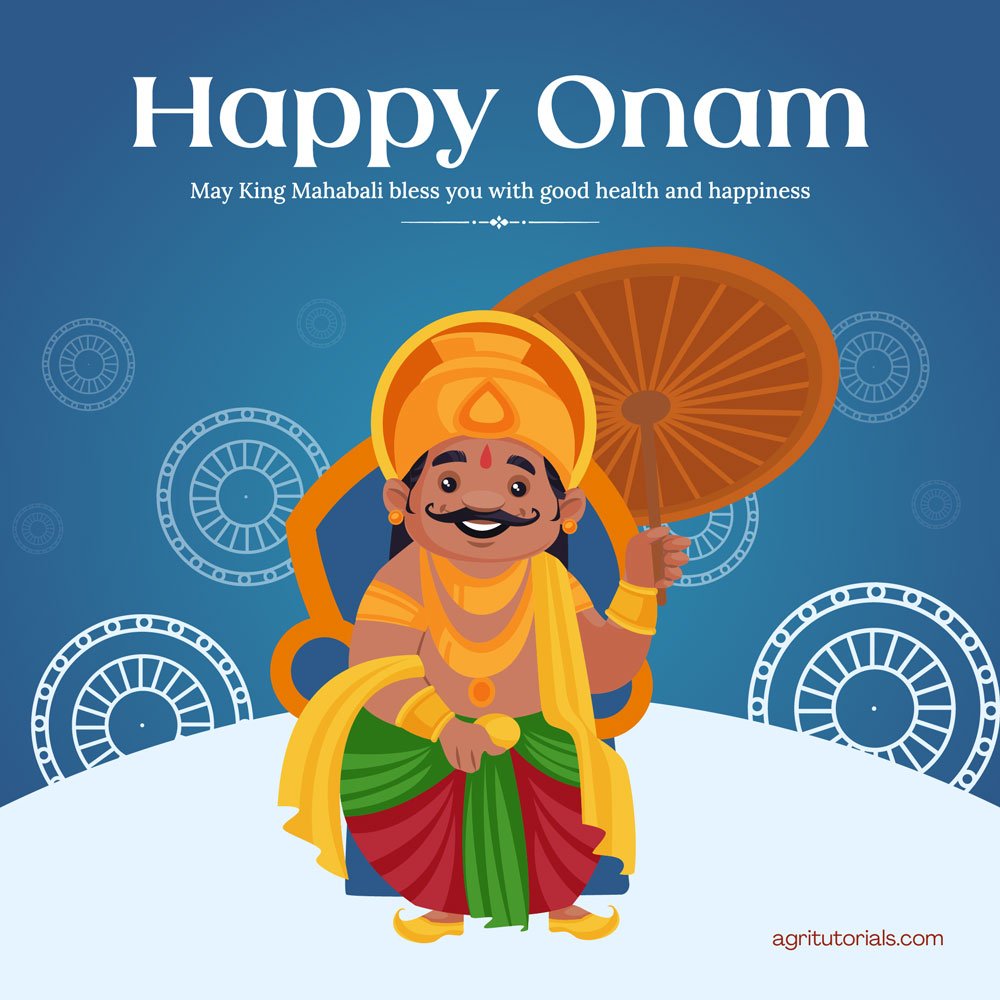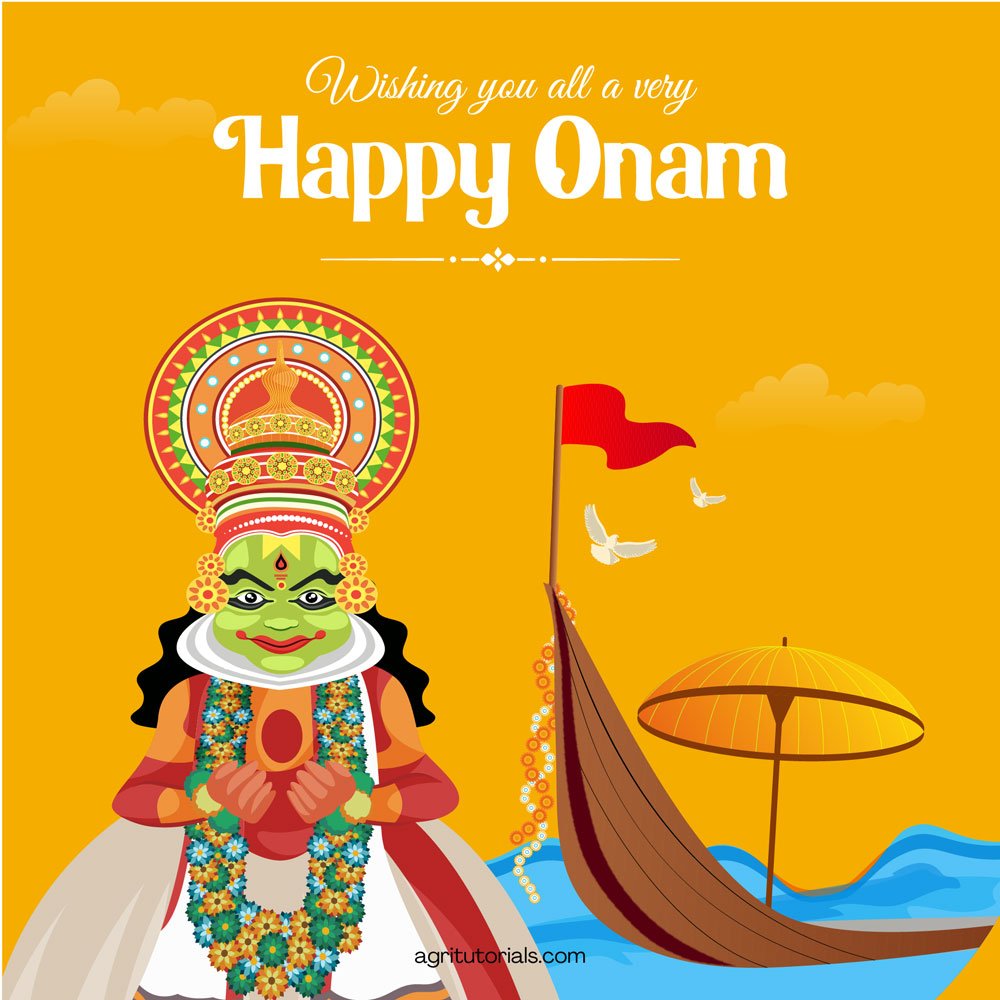 Onam Story
The Onam story of King Mahabali and the Vamana Avatar are central to the Onam narrative. The renowned Emperor Mahabali is said to visit Kerala state every Onam, therefore celebrations are planned to welcome him.
This lively celebration of the south is connected to an old Onam Story. The golden age of King Mahabali's reign is referenced in the Onam Story. The jealousy events between the Gods on Mahabali are described in the legend of the Onam festival. The King is highly respected by the townspeople, thus they celebrate this holiday with tremendous passion and zeal.
Who was King Mahabali?
King Mahabali, an Asura ruler who ruled Kerala in ancient times, was adored by the populace because he was incredibly wise, watchful, and good to his subjects. The rule of King Mahabali is said to have been a golden time for Kerala. People in his monarchy were content and quarrelled. In Kerala, discrimination based on income and race was fully eradicated.
The ratio of crime to corruption decreased to zero. People were freed from their troubles, afflictions, and tribulations under the reign of Emperor Mahabali. Everyone was satisfied, happy, and content.
"Veerochana" was King Mahabali's father, and "Prahlad," a demon named "Hiranyakashyap," was his grandpa. The son of Mahabali, "Bana," later made an appearance as a magnificent ruler. Mahabali, who was raised by demons and belonged to the Asura family, was a fervent follower of Lord Vishnu.
The public referred to him as "Mahabali – the King of Kings" or "Mahabali Chakravathy" by his people because of his courage and strong demeanour.