In India, Classification of Crops based on seasons are divided into three types- Rabi, Kharif and Zaid Crops or Summer crops.
Because of cultures India is a geographically diversified types of crops in India and have various plants and trees, it has a variety of food and non-food crops that are grown during the three primary agricultural seasons of rabi, kharif, and zaid. Rice, wheat, millets, maize, and pulses are all food crops. Sugarcane, oilseeds, horticultural crops, tea, coffee, rubber, cotton, and jute are all examples of cash crops.
Classification of Crops Based on Seasons
Kharif crops: Grown in June – July, Crops: RICE, COTTON
Rabi crops: Grown in October – November, Crops: WHEAT, POTATO
Zaid crops / Summer crops: Grown between March – June, Crops: CUCUMBER, PUMPKIN
The significance of classifying crop plants is as follows:
To familiarize oneself with crops.
To comprehend the soil and water requirements of various crops.
To learn about crop adaptability.
To be aware of crop growing habits.
To comprehend the climatic requirements of various crops.
To understand the agricultural plant's economic output and how it is used.
To determine the crop's growing season.
To gain a general understanding of the actual conditions required for plant cultivation.
Agricultural Crops
Here is a quick description & name of the different seasons in India as discussed all about Sowing and Harvesting time via. calendar months :
Types of Crops in India:
| | | | |
| --- | --- | --- | --- |
| क्रम संख्या | फसलों के प्रकार | बुवाई | कटाई |
| 1 | खरीफ : ( Agricultural crops: चावल, ज्वार, मक्का, चाय, रबड़, कॉफी, ग्वार, तिल, अनाज जैसे अरहर दाल, मोती बाजरा, सोयाबीन, कपास, तिलहन) | जून-जुलाई | सितंबर-अक्टूबर |
| 2 | रबी : ( Agricultural crops: गेहूं, जई, जौ, दालें, अनाज, तिलहन, अलसी, इत्यादि) | अक्टूबर-नवंबर | जनवरी-फरवरी |
| 3 | जायद : ( Agricultural crops: खीरा, कद्दू, करेला, तरबूज, खरबूजा, गन्ना, मूंगफली, दालें,) | फरवरी-मार्च | मई-जून |
Types of Crops in India
Agricultural crops are classified according to the seasons in India, in which they create big role to grow crop and harvesting time in the agriculture field.
---
Kharif Crops
Sowing: June-July
Harvesting: September-October
Crops grown during June-July to September–October that demand warm, wet conditions during their major period of growth and shorter day duration for flowering.
Kharif crops are grown with the onset of monsoon in different parts of the country and these are harvested in September-October.
Assam, West Bengal, the coastal districts of Odisha, Andhra Pradesh, Telangana, Tamil Nadu, Kerala, and Maharashtra, particularly the (Konkan coast), as well as Uttar Pradesh and Bihar, are some of the most prominent rice-growing regions. Paddy has recently become a significant crop in Punjab and Haryana. Paddy is grown three times a year in states like Assam, West Bengal, and Odisha. Aus, Aman, and Boro are their names.
Important agricultural crops grown during Kharif season are: Rice, Jowar, Maize, Tea, Rubber, Coffee, Guar, Sesame, Cereals like Arhar Dal, Pearl Millet, Soyabean, Cotton, Oilseeds.
A year's worth of effort can be ruined by too much, too little, or rain at the wrong time. During the rainy season, the Kharif crop is grown, whereas the Rabi crop is grown during the dry season.
Table: Kharif agricultural crops to be sown in different parts of India
| | | | |
| --- | --- | --- | --- |
| KHARIF AGRICULTURAL CROPS | | | |
| | | | |
| Cereals | Fruits | Seed plants | Vegetables |
| | | | |
| Jowar | Almonds | Arhar (tur) | Bitter gourd (karela) |
| Maize (corn) | Apples | Black gram (urad) | Bottle gourd |
| Millet | Apricots | Cotton | Brinjal |
| Rice (paddy) | Bananas | Cowpea (chavala) | Chili |
| | Cantaloupe | Green gram (moong) | Green bean |
| | Chikoo | Groundnut | Ladies' fingers |
| | Coconut | Guar | Sponge gourd |
| | Dates | Moth bean | Tinda |
| | Figs | Mung bean | Tomato |
| | Guava | Sesame (til) | Turmeric |
| | Jaman | Soybean | |
| | Litchi | Urad bean | |
| | Luffa | Red gram (Pegion pea) | |
| | Mango | Fennel (Saunf) | |
| | Muskmelon | | |
| | Orange | | |
| | Pomegrante | | |
| | Plums | | |
| | Pears | | |
| | Phalsa | | |
| | Papaya | | |
| | Peaches | | |
| | Sarda | | |
| | Sugarcane | | |
| | Walnut | | |
| | Watermelon | | |
Kharif Crops to be sown in different parts of India
For these crops, rainfall quantity and timing are critical. In many northern Indian states, like as Kerala, monsoon sowing dates span from late May to July. In locations like Maharashtra, India's west coast, and Pakistan, where it rains in June, the kharif agricultural crops is sown in May, June, and July.
Rice (Paddy)
Rice is made from the seed of the grass species Oryza sativa, sometimes known as Asian rice, or the less common Oryza glaberrima (African rice).
Temperature: High humidity and temperatures between 22 to 32 °C.
Rainfall: 150 to 300 centimetres of rain.
Soil Type: Deep clayey and loamy soil is the type of soil.
Top Rice Producing States: West Bengal, Punjab, Uttar Pradesh, Andhra Pradesh, and Bihar are the top states for rice production.
Staple food: The majority of Indians, rely on it, as their main source of livelihood.
After China, India is the world's second-largest rice producer.
Three paddy crops are farmed each year in areas like Assam, West Bengal, and Odisha. Aus, Aman, and Boro are these.
A few government programmes to encourage rice farming are the National Food Security Mission, Hybrid Rice Seed Production, and Rashtriya Krishi Vikas Yojana.
In India, there are 20 different types of rice, including the following – Basmati Rice, Purple Thai Rice, Brown Rice, Mogra Rice, Bamboo Rice, Sona Masuri, Black Rice, Red Rice, Red Cargo Rice, Jasmine Rice, Sushi Rice, White Rice, Samba Rice, Rosematta Rice, Wild Rice, Indrayani Rice, Bomba Rice, Glutinous Rice or Sticky Rice, Arborio Rice, Valencia Rice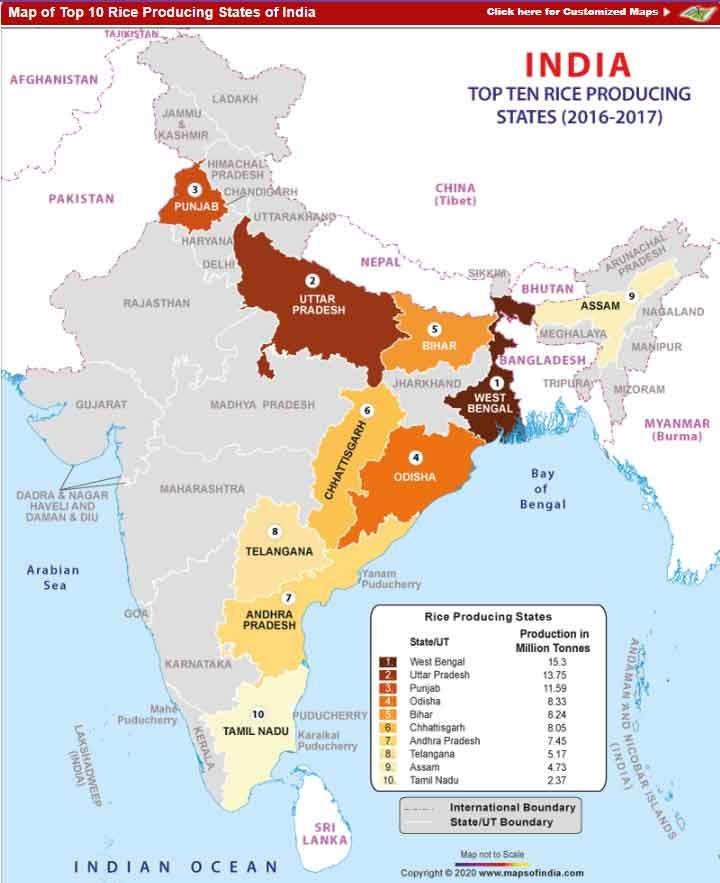 ---
Rabi Crops
Sowing: October-November
Harvesting: January-February
Rabi crops are those that are grown during October–November to January-February, which require cold, dry weather for their main growth period as well as greater day duration for flowering. Crops: Wheat, oats, barley, pulses, cereals, oilseeds, linseed, etc.
Rabi crops are planted in the winter and harvested in the summer, from April through June. Wheat, barley, peas, gramme, and mustard are some of the most significant rabi crops. The availability of moisture during the winter months due to western temperate cyclones aids these crops' success.
Though wheat and other rabi crops are farmed throughout India, states in the north and northwestern regions, such as Punjab, Haryana, Himachal Pradesh, Jammu and Kashmir, Uttarakhand, and Uttar Pradesh, are particularly important.
However, the green revolution's success in Punjab, Haryana, western Uttar Pradesh, and parts of Rajasthan has also aided the growth of the rabi crops indicated above.
| | | | |
| --- | --- | --- | --- |
| RABI AGRICULTURAL CROPS | | | |
| Fruits | Legumes / Lentils (Dal) | Seed Plants | Vegetables |
| Banana | Chickpea | Alfalfa (Also Known As Lucerne, Medicago Sativa) | Bean |
| Ber | Kulthi | Coriander (Coriandrum Sativum, L) | Beetroot (Chukunder) |
| Date | Lobias | Cumin (Cuminum Cyminum, L) | Brinjal (Baingan) |
| Grape | Masoor | Fenugreek (Trigonella Foenumgraecum, L) | Broccoli (Hari Gobhi) |
| Grape Fruit | Mung Bean | Linseed | Cabbage (Patta Gobhi) |
| Guava | Pigeon Pea | Mustard (Brassica Juncea L.) | Capsicum |
| Kinnow | Toria | Isabgol (Plantago Ovata) | Carrot (Gajar) |
| Lemon | Urad Bean | Sunflower | Cauliflowers (Gobhi) |
| Lime | | Bengal Gram | Chickpea (Also Known As Gram, Cicer Arientinum) (Channa) |
| Mandarin Orange | | Red Gram (Black Pepper) | Fenugreek (Methi) |
| Mangoes | | | Garlic (Lehsun) |
| Mulberries | | | Lady Finger (Bhendi) |
| Orange | | | Lettuce (Salad Gobhi) |
| | | | Pea (Mattar) |
| | | | Onion (Allium Cepa, L.) (Pyaj) |
| | | | Potato (Solanum Tuberosum) (Aloo) |
| | | | Radish (Mooli) |
| | | | Spinach (Palak) |
| | | | Sweet Potato (Shakarkand) |
| | | | Tomato (Solanum Lycopersiucum, L) (Tamatar) (Thakkali) |
| | | | Turnip (Shalgum) |
Common Wheat (T. aestivum)
Wheat is an Indian staple. The majority of Indian meals must include roti or chapati. This wheat flour-based Indian flatbread pairs well with a variety of foods and is regarded as a staple in our diets. The two-ingredient recipe is rich in fibre, vitamins, and minerals as well as carbohydrates. It is renowned for a wide range of health benefits, including lowering cholesterol levels, promoting healthy digestion, and providing plenty of energy.
Temperature: With strong sunlight, between 10-15°C (sowing time) and 21-26°C (ripening and harvesting).
Rainfall: 75-100 cm of rain-fall.
Soil Type: Types of soil include clayey loamy and well-drained fertile loamy (Ganga-Satluj plains and black soil region of the Deccan)
Top Wheat Producing States: Uttar Pradesh, Punjab, Madhya Pradesh, Haryana, and Rajasthan are the top states for wheat production.
Largest producer: After China, India is the second-largest producer in World. APEDA stated that India is currently the second-largest producer of wheat in the world, with production increasing by ten times in the last five years. Numerous studies and analyses reveal that wheat and wheat flour are managing India's food economy with rising importance.
In northern and western India, this is the most significant grain crop and the primary food crop.
Wheat production in particular increased thanks to the Green Revolution's success.
A few government programmes to encourage wheat farming are the Macro Management Mode of Agriculture, the National Food Security Mission, and the Rashtriya Krishi Vikas Yojana.
In India, there are 7 different types of Wheat, including the following – Sihore Wheat, Lokwan Wheat, Purna/Harshita Wheat, Malavraj Wheat (Durum Wheat), Punjabi Tukdi, Khapli Wheat, Bhalia Wheat
---
Summer Crops / Zayed Crops
Sowing: February-March
Harvesting: May-June
In between the rabi and the kharif seasons, there is a short season during the summer months known as the Zaid season. Crops grown during February–March to May–June which require warm dry weather for growth and longer day length for flowering.
Watermelon, muskmelon, and cucumber are some of the crops grown during 'zaid.' It is the summer cropping season, when crops are cultivated mostly under artificial irrigation for a brief period of time. Crops are planted in the spring (February–March) and harvested in the summer (April–June).
Important agricultural crops grown during Summer Season: All crops under Summer crops or Zaid are Watermelon, Muskmelon, Cucumber, Bitter gourd, Fodder, Pumpkin, Guar (Cluster Beans), Strawberry, Arhar (Pigeon pea), Masur (Lentil), Sugarcane.
---