National Parks of India and list with name of new & Oldest National Park in India: Dehing Patkai National Park (2021), Raimona National Park (2021), and Jaldapara National Park (2014) are the three newest national parks in India as of 2022. On June 5, 2021, Assam's Park was added as India's 106th National Park. The list of oldest national parks in India also includes Jim Corbett National Park (1936), Kanha National Park (1955), and Tadoba National Park (1955).
India's national parks are category II protected areas according to the IUCN (International Union for Conservation of Nature).
In 1936, the region of Uttarakhand that is today known as Jim Corbett National Park became India's first national park. India only had five national parks by 1970. In order to protect the habitats of animals that depend on conservation, India passed the Wildlife Protection Act in 1972 and Project Tiger in 1973. India now has 106 national parks. In the 1980s, more federal legislation aimed at enhancing wildlife preservation was introduced.
National Parks Of India
A national park is a relatively large area of one or several ecosystems that are not being materially altered by human exploitation and occupation.

Here, plant and animal species, geomorphic sites, and habitats are reserved for education and research.
The National Parks in India are created by the respective State Governments under the provisions of the Wildlife (Protection) Act 1972. National Parks are declared in areas that are considered to have adequate ecological, geomorphological, edaphic, cultural, and natural significance.
There are 106 existing national parks in India covering an area of 44,378 km2, which is 1.35% of the geographical area of the country (National Wildlife Database, Dec. 2020). In addition to the above, 75 other National Parks covering an area of 16,608 km2 are proposed in the Protected Area Network Report . The network of parks will go up 176 after full implementation of the above report.
In India, there are currently 106 national parks, totaling 44,378 km2, or 1.35% of the country's land area (National Wildlife Database, Dec. 2020). Along with the aforementioned, 75 more National Parks totaling 16,608 km2 are suggested in the Protected Area Network Report. After the aforementioned study has been fully implemented, the network of parks will increase by 176.
Oldest National Park in India
Corbett National Park (1936)
Kanha National Park (1955)
Tadoba National Park (1955)
Jim Corbett National Park
In the Uttarakhand province's Nainital district located Corbett National Park, a smaller portion of the larger Corbett Tiger Reserve and a Project Tiger Reserve. For its abundance of tigers, the enchanted terrain of Corbett is well-known and legendary. As India's oldest and most prominent National Park, Corbett was first established in 1936 as Hailey National Park.
It is also being recognised for being the site of the 1973 debut of Project Tiger. The Project Tiger in India, which was founded to safeguard the most endangered species and the Royal of India known as Tigers, was born in this special tiger territory, making it best recognised as its father.
With a total size of 520 square kilometres, it is made up of hills, grasslands, riverine belts, marshy depressions, and a sizable lake. One of the few tiger reserves in India that permits overnight stays within the National Park is this one.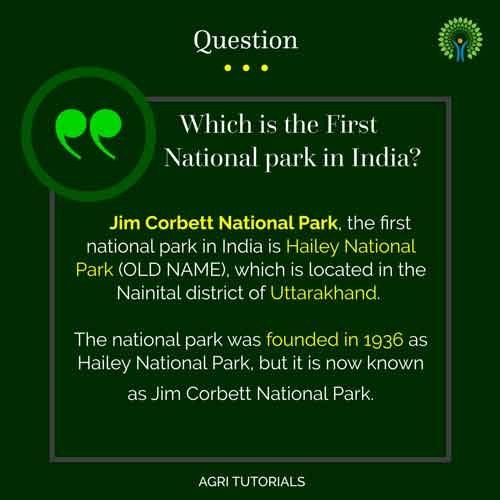 Kanha National Park
The Madhya Pradesh state's Maikal range of Satpuras, which makes up the central Indian highlands, is home to Kanha National Park. It's fascinating to note that the national park is now known as the Tiger Reserve and is being hailed as one of the best wildlife refuges in the world. Kanha National Park, which spans two revenue districts, Mandala and Kalaghat, was established as a reserve forest in 1879 and reclassified as a wildlife sanctuary in 1933.
In 1955, it received another promotion and became a national park. The 940 sq km Kanha National Park is located in the Maikal series of hills. The total size of the Kanha Tiger Reserve, including the core zone and buffer, is 1945 square kilometres.
Tadoba National Park
One of India's 47 planned tiger reserves, "Tadoba National Park," also known as the "Tadoba Andhari Tiger Reserve," is notable for being the oldest and largest National Park in Maharashtra. It is roughly 150 miles from Nagpur city and is located in the Chandrapur district of the state of Maharashtra. The Tadoba National Park, established in 1955, is included in the 1,727 sq. km. total area of the tiger reserve.
The name 'Tadoba' or 'Taru,' which is lauded by the local tribal people of this region, is the source of the word 'Tadoba,' while the name 'Andhari' is taken from the name of the Andhari river, which flows through this region. The Tadoba Andheri Tiger Reserve was established in 1995 following the merger of the park and the Andhari Wildlife Sanctuary, which was founded in 1986.
Newest National Parks
Dehing Patkai National Park (2021)
Raimona National Park (2021)
Jaldapara National Park (2014)
Dehing Patkai National Park
Dehing Patkai National Park, which spans a rainforest-covered area of 231.65 km2 (89.44 sq mi), is situated in the Assamese districts of Dibrugarh and Tinsukia. On June 13, 2004, it was designated as a wildlife sanctuary. It was upgraded by the Assam government to become a national park on December 13, 2020. The Assam Forest Department formally declared it a national park on June 9, 2021.
It is situated in the lowland rainforest of the Dehing Patkai Landscape, which is characterised by dipterocarps. More than 575 km2 (222 sq mi) of the districts of Dibrugarh, Tinsukia, and Charaideo are covered in the rainforest. The Arunachal Pradesh districts of Tirap and Changlang see further expansion of the forest. In India, Dehing Patkai National Park is home to the country's largest area of lowland rainforest.
Under Project Elephant, Dehing Patkai Wildlife Sanctuary was designated as Dehing Patkai Elephant Reserve. 'Upper Dehing Wildlife Sanctuary' was the name given to Dehing-Patkai in the late 1980s after a primate study. The location was later identified as a worldwide important site for the white-winged wood duck during a research in the early 1990s, and it was suggested that it be upgraded to 'Upper Dehing National Park.'
Raimona National Park
The Raimona National Park, covering an area of 422 sq. km. in the Kokrajhar district within the Bodoland Territorial Region (BTR) and integrating portions of the Ripu-Chirang reserve forests, was established as the state of Assam's sixth national park in June of this year.
In addition to sheltering one of the most endangered primates in the world, the Gee's golden langur, as well as other endangered animals including the Bengal tiger, clouded leopard, gaur, and chital, Raimona National Park is renowned for its legendary elephant herds and rare butterflies.
The establishment of the park is increased ecotourism, transboundary wildlife management, and biodiversity conservation.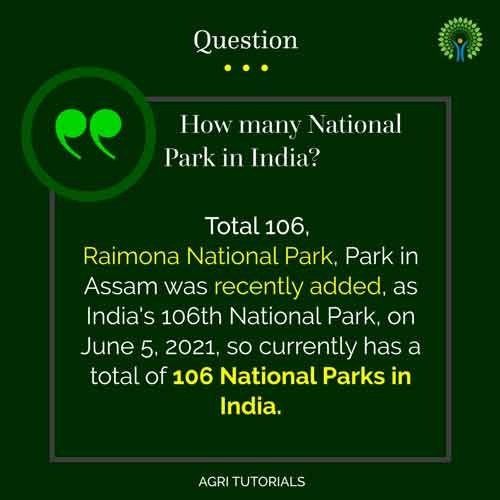 Forest Area:
Today, these forests in the biodiverse foothills of Assam are a component of Raimona National Park. The park was established on June 9, 2021, in recognition of the existence of the teeming biodiversity, and was given the name Raimona after the former capital of the Bijni estate. In the foothills of the Eastern Himalaya Biodiversity Hotspot, it is made up of contiguous forest patches that occupy an area of 422 sq. km. This area is part of the recognised Ripu Reserve Forest, which serves as the westernmost buffer to Manas Tiger Reserve.
The Chirang-Ripu Elephant Reserve, which covers an area of 2600 sq. km. and is well-known for its former habitats for elephants, was established by the Assam government in 2003. Elephants and other wildlife can roam across borders through northern West Bengal, Bhutan, and Arunachal Pradesh thanks to the newly declared park and Manas National Park.
Jaldapara National Park
Over its 216 square kilometres, the Jaldapara National Park is a patchwork of woodlands, grasslands, perennial streams, sandy riverbanks, and wide expanses of tall grass. It has a wide variety of plants and animals that live in mixed deciduous forests, meadows, and riverbanks.
As the only gene pool refuge for the Great One Horned Rhinoceros outside of Assam and Nepal, Jaldapara National Park has significant ecological value and biodiversity. The rhino population in Jaldapara National Park is a survivor of the former rhino population that once roamed the Indo-Gangetic plains but became isolated due to habitat fragmentation. Currently, Jaldapara serves as the Great One-Horned Rhinoceros' second-largest habitat. Additionally, Jaldapara is home to herds of Asian elephants, bison, sambar, hog deer, and Hispid hare.
You can make reservations for your upcoming stay at Jaldapara using the West Bengal government's official website.
Smallest National Parks in India
Smallest National Parks in terms of Area:
South Button Island National Park
Fossil National Park
North Button Island National Park
Middle Button Island National Park
North Button Island National Park
Dinosaur Fossils National Park
Pambadum Shola National Park
List of National Parks
Newest National Parks in India: Raimona National Park, Park, Assam is the newest national park in India added in the list of national parks in india on on June 5, 2021. Here is the list, name of all National Parks in India with state wise:
Source: National Wildlife Database, Wildlife Institute of India (May, 2019)